You didn't see that coming did you? KFA2 has launched world's first video card capable of wirelessly transmitting raw, uncompressed 1080P, 60Hz signal to the included WHDI receiver.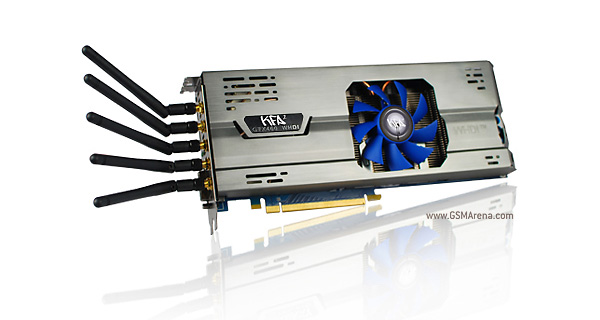 The wireless signal can be transmitted up to 30 meters (100 feet) even through walls and obstacles so you don't need to worry about putting your PC in another room. This is quite useful if you want to put the PC away from your HDTV or monitor for whatever reason, and I am pretty sure you can find one one.
KFA2 NVIDIA GTX460 WHDI is just an ordinary GTX 460 but with wireless antennas. It features 1024 MB of RAM, 256-bit memory interface and a processor clocked at 1.35Ghz.
I have to admit, the card's industrial design looks awesome! It will be available for sale in the coming weeks in Europe, with the price still unknown.