The Jolla Tablet campaign reached its (rather low) funding goal of $380,000 in a couple of hours and now in its second day it has already passed the $1 million mark. The campaign is going so well that the price keeps rising – the first 1,000 tablets went at $190, the current batch of 1,000 tablets is priced at $209.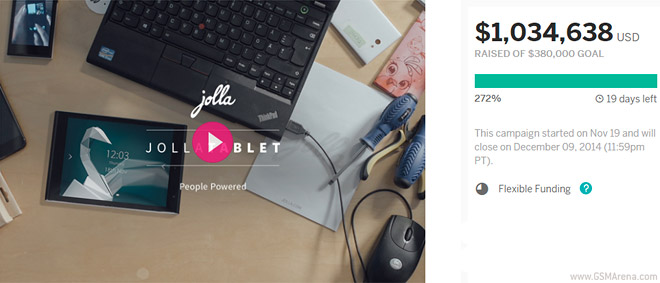 And the price will keep rising, eventually reaching its estimated retail price of $250 – matching the metal-clad Nokia N1.
The success of the Jolla Tablet campaign is surprising, relative to the company's relative obscurity. Still, its Jolla phone made a splash around the Microsoft/Nokia deal. Other tech startups like Ouya reached $2 million in its first day (on Kickstarter, rather than IndieGoGo, but still).
So, are you getting a Jolla Tablet before they reach $250 or will you wait to see if the company pulls it off before forking over any cash? Keep in mind that the tablets won't ship until May next year, while the iPad mini of a clone that is the Nokia N1 should be available early next year.
P.S. the campaign's "world's first crowdsourced tablet" tagline is not entirely accurate.