MobileGeeks.de has got hold of an alleged inventory photo from German electronics retailer MediaMarkt concerning the pricing, storage capacity and colors of the yet unannounced iPad mini.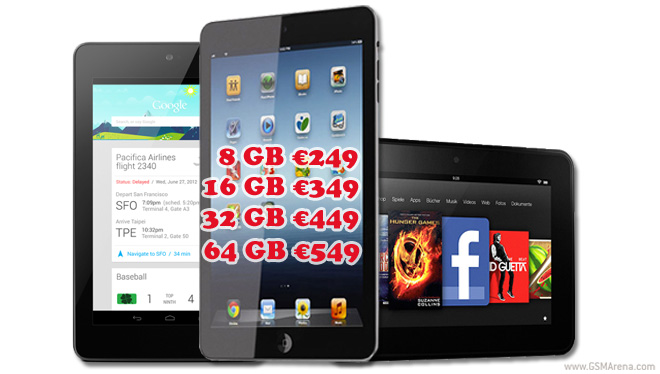 According to the leaked image the iPad mini will be offered in Black and White with storage options ranging from 8 GB to 64 GB, Wi-Fi only or Wi-Fi and Cellular with prices starting from €249.
The iPad mini Wi-Fi variants are €249 for the 8 gig version, €349 for 16 GB, €449 earns you a 32 gig model and €549 for the 64 GB one. If you want all the trimmings just add another €100 to the quoted prices to receive a cellular option.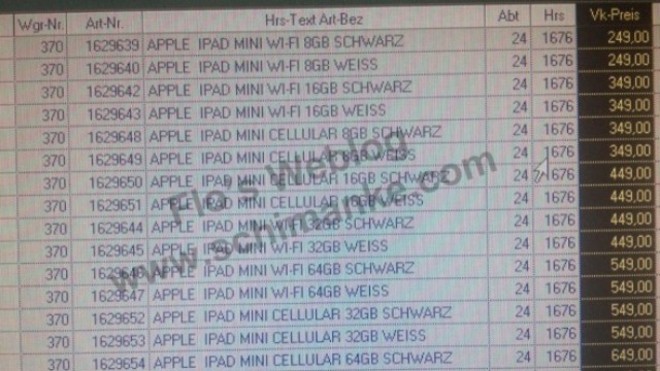 These prices are obviously meant to put the iPad mini at odds with its most direct competitors the Asus Nexus 7 and Amazon's Kindle Fire HD. The Google pureblood offers 16 GB (and even rumored 32GB) of storage for the price of an 8 GB iPad mini (€249), while Amazon gives you 32 GB worth of storage on a Kindle Fire HD for the same asking price.
I'm rather disappointed that the iPad mini would be only 100 euro cheaper than the equivalent 10-inch iPad configurations. Unfortunately, Apple continues the trend of heavily overpricing storage. A 16GB iPad mini would have made lots of sense at around the €250 euro mark, but Apple is not in the business of selling affordable personal electronics.
Still, things could wind up totally different so stay tuned for the unconfirmed October 23 event at which Apple could make the iPad mini official.
MobileGeeks seems to be down at the moment, but still, you will find a link to their article below.