We already told you the iOS 5 beta 3 was just released last night and I already updated my iPhone 4. One of the most notable new features in this release is the new on-screen menu that can do the job both of the hardware Home button and that of the regular touch gestures. It's been devised for people who can't execute all iOS gestures properly for some reason and it's first of its kind on a mobile phone for sure.

The new feature is an upgrade to the previously available option into the Accessibility Menu – Assistive Touch. Activate the feature in the iOS 5 beta 3 and you get a new on-screen key that stays available throughout the UI, even on the lockscreen and in games. It's shaped as a homescreen icon and offers a few useful menus.
You can easily move the key in one of the four corners of the screen at any time. Tapping on it reveals four shortcuts – Gestures, Device, Home, Favorites. Every shortcut, except the Home key, opens another submenu.
The Gestures shortuct allows you to simulate two, three, four or five-finger tap. The Device shortcut will allows you to rotate the screen (if available), lock the screen, manipulate volume controls and even simulate a device shake.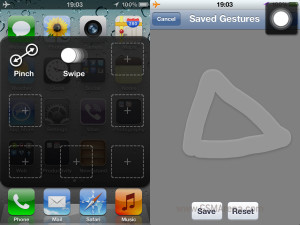 In the Favorites section you have Pinch and Swipe shortcuts and you can additionally assign six more custom gestures. You just need to perform them once so the iOS can save them.
The Home virtual key has the same functionality as the hardware Home – you can single/double/triple tap it to get what you need from the iOS.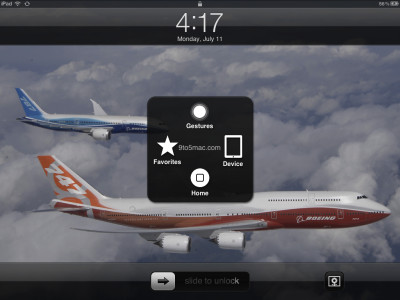 That's pretty much all. There are many people that misunderstood what this feature is actually for – it's a pure accessibility option that helps you control everything in the iOS with let's say just one finger. It's certainly more usable on the iPad because on the large screen the dot doesn't get in the way as much as it does on the iPhone.