I was anxious to try out the iOS 4 on my iPhone 3G ever since it was announced so you can imagine how impatient I was to install the iOS 4 Gold – the final developer's beta that was unlocked for installation to non-developer's iPhones. Waiting until 21 June to get the final version was simply not an option.
Well, I was in for a handful of disappointments. I suppose those upgraders among you that don't have an iPhone 3GS will feel the same.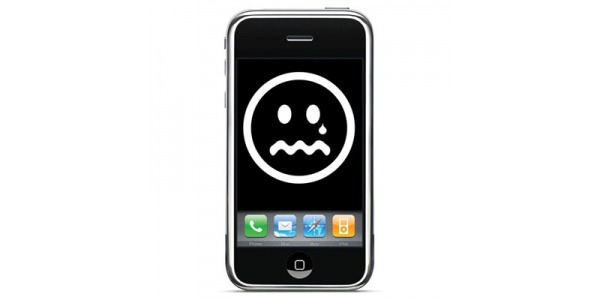 More than 100 new features
Announcing the iOS 4, Apple promised more than a hundred new features but they somehow failed to mention a lot of those won't be available to the now discontinued iPhone 3G. I knew multi-tasking was a no-go but how about homescreen wallpapers? Come on – using custom wallpapers or even videos for homescreen background has been available to users with jailbroken iPhones for ages. How can that be a iPholne 3GS only feature? Well, it turns it is.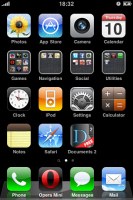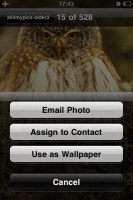 No sign of home screen wallpaper or setting for it on out iOS 4 Gold on iPhone 3G?
But homescreen wallpapers are a minor thing. The worst part about the new iOS4 is that I've never seen my iPhone 3G operate so slowly. It's like I've suddenly downgraded the hardware performance by a half. There's stuttering when I scroll, opening some submenus takes ages, and many AppStore games or applications either take an eternity to load or they randomly freeze on me. And it's the Gold beta we're talking about here – a true Release Candidate. I can't imagine what it would have been like to use the earlier versions.
If it's how the final version would run on my iPhone 3G, then I would surely think twice about upgrading permanently.
I ran some numbers here so you can understand the difference. With the iOS 4 the iPhone 3G boot time took 5-7 seconds longer than on a regular iPhone 3G with iPhone OS 3.1.2.
The data intensive iGO SatNav app was able to start only after a fresh restart of the iPhone 3G with iOS 4 and the app itself took some good 37 seconds more than on the older OS to fully load. The second run of the app shot the difference in start times up to 50 seconds for a total load time of 1 min 18 seconds! I must be joking right? Well, I'm not.
Furethermore, I went to check the promised functionality of opening mail attachments with a third-party app of your choice. Well, guess what – there's no option to choose a third-party app to do the job. I guess that's another feature the iPhone 3G won't be getting.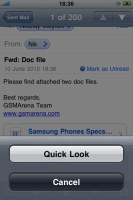 No option to asign the free document viewer to open attached docs

Update 25 June: I manually upgraded my iPhone 3G to the final version of iOS 4 and the performance difference was easily noticeable right from the start.
Now photos load instantly even if there are a thousand of them in a folder. The Settings and General menus load at least twice as fast, yet this is nowhere near the instant performance of iOS4 on 3GS. My huge sms box loads very quickly now. Other improvement is that iGO now loads without doing restarting the iPhone first, yet it takes some good 90 seconds to load. The performance is random – sometimes it works just fine, while other times it stutters for minutes before getting back to normal again.
There are still lags when you slide to unlock the phone with choppy transitions and a lagging unlock sound. Typing is probably the worse, with the keys actions and sounds stuttering so badly, they make typing a challenge.
At least the iBooks app is available for my iPhone 3G now. It takes quite a while until the books load on the wooden shelves of the iBooks application. Loading Winnie the Pooh isn't a quick job too – jumping from page to page requires time, while the initial loading of the book takes up to 10 seconds.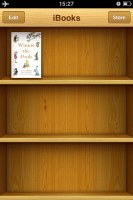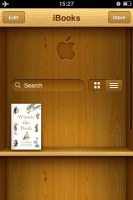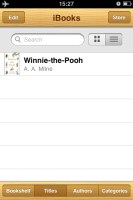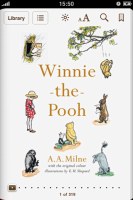 iBooks in action – runs quite slow on my iPhone 3G
It's like Apple is looking for artificial ways of making their older iPhones obsolete. No iOS 4 update for iPhone 2G – that's on purpose, it has the same processor and RAM as 3G, it's totally compatible. It's just that Apple don't want their latest high-tech toy to run the same OS as their three-year old iPhone 2G. Not cool, Mr. Jobs. What if I'm ok with the older hardware?
Imagine they do that to computers. They'd say: "Hey, you can't upgrade your MacBook to Mac OS "Green Lizard". It's not because you have old and sluggish hardware, it's just because you bought your MacBook so long ago. We want you to buy a new one!"
And for all I know, that may as well happen and they'll get away with it. It's totally Apple, you know.
There's the other side of the coin, too
Not that I didn't appreciate some of the new features I just got. Most are small things that have been bugging me ever since I became an iPhone convert so I hope you'll excuse my excitement over small stuff such as the SMS character counter. Yeah, look at me – a GSMArena editor grinning at a SMS character counter. I can almost picture Apple like a giant factory for Christmas gifts, Steve Jobs carrying an oversized gown in red and white. You know who I'm talking about.
Next up, it's the Notes app. With iOS 4 they are no longer tied to your iPhone or desktop computer, now they easily sync with your email account. At least they do with Gmail. After I set that up, I found a new folder in Gmail called "Notes". It automatically stored all my iPhone notes as emails and continued to sync them two-ways.
Other promised niceties such as Google search suggestions in Safari and Spotlight's "Search Web" and "Search Wikipedia" are also here to stay and I enjoyed them too. Sadly, Google suggestions don't seem to work in third-party browsers such as Opera Mini, which is gradually becoming my default web browser.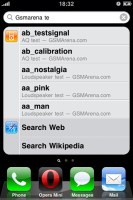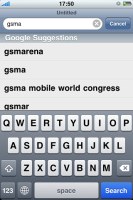 Google suggestions in Safari browser and Spotlight Web and Wikipedia references are welcomed
Combining all my incoming email from the several accounts that I have set up on my phone is also a life saver. Going through all of the independent Inboxes on a daily basis felt like tedious chore. It so much better now.
Final words
But despite all the goodies I just got, I can't suppress the itchy feeling that Apple made iOS 4 so sluggish on the iPhone 3G on purpose. Just to let me know my iPhone is so-2008 – old and underpowered, taking away the joy of having these new features. It somehow makes you want to upgrade to a more powerful hardware, doesn't it?
Not only that, but they also made sure I get only half of the new features. Apple would like to make sure I buy their latest toy after I skipped on last year's iPhone 3GS upgrade. And I might as well do so, because I've already invested a serious amount of money in mobile applications that are available exclusively from their AppStore. But I'll deal with it one way or the other.
But take that lesson on modern captalism – this year Apple's letting me and my iPhone 3G down, next year – it's going to be iPhone 3GS users. So be sure to make your buys wisely. I know I would.