Intel has been trying to get into the mobile business and has had moderate success so far, but with the new Bay Trail chipset the chip giant may have finally done it. Bay Trail chips will use the new Silvermont CPU cores and Intel's own GPUs like the ones used in Haswell processors.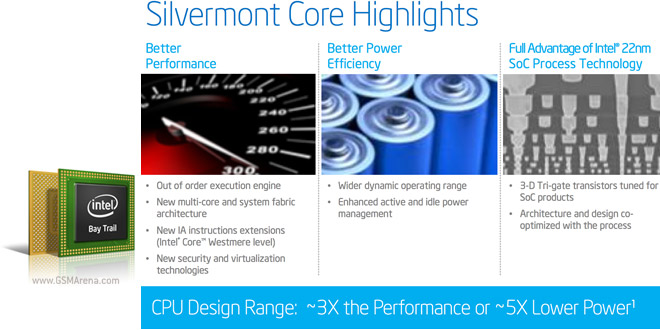 Bay Trail will be under the Atom brand for tablets (Z3600 for dual-core CPUs, Z3700 for quad-core) and Celeron and Pentium for laptops (N2000 and N3000 respectively) and desktops (J1000 and J2000).
The Silvermont CPU cores support 64-bit (the new buzzword since Apple announced iOS support for it), but OS support will have to catch up – Windows 8.1 will be 32-bit on Bay Trail at launch, Android is 32-bit only for now.
The memory interface is either two LPDDR3 64-bit channels (borrowed from Core processors) or a low-cost single DDR3L 64-bit channel.
On the GPU side, Intel is using its own design that we saw in Ivy Bridge, just with a quarter of the Execution Units that were to be found in a Ivy Bridge GT2 (HD4000) processor. There's support for DirectX 11 to keep Windows happy and OpenGL ES 3.0 for Android. The Bay Trail chipset supports both OSes and device makers can use virtually the same hardware design with either OS or even do a dual-boot system.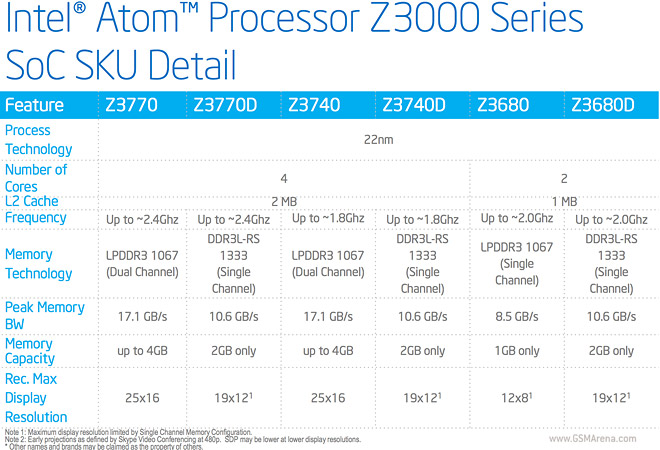 Displays of up to 2,560 x 1,440 resolution are supported over embedded DisplayPort and up to 1080p over HDMI. 4K video decoding is supported as well.
So, how's the performance? Under Windows 8.1, Bay Trail the 10″ Form Factor Reference Design (with the flagship Atom) pretty successfully takes on AMD's A4-5000 chipset (a 15W TDP part) in both CPU and GPU performance. It's behind an Ivy Bridge Core i7, but this is aimed at fanless, battery-powered devices so it's looking great.
Under Android 4.2.2, CPU performance tops quad-core Cortex-A15 and Krait 400 processors most of the time. GPU performance is above Adreno 320 and PowerVR SGX604, but behind Tegra 4′s GPU (in the NVIDIA Shield) and the Adreno 330.
You can head over to AnandTech for tons of benchmark and details on the hardware.
Measurements done by HotHardware point to Bay Trail power usage being lower than Clover Trail (the Atoms in current devices) in web browsing, web video and local 1080p video by over 1W some times (a great deal in mobile device terms).
Asus has already announced the Transformer Book T100, a hybrid with a detachable 10.1″ tablet and full QWERTY keyboard.