Intel announced its upcoming Braswell SoC at the IDF conference earlier this year, set to run Windows or Android, among others, on a 14nm 64-bit architecture. We now learn that those will finally be available at the start of 2015, over 6 months from now.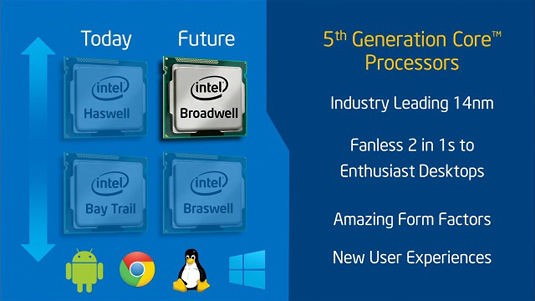 Meanwhile, its Broadwell K desktop architecture, the successor of its current Haswell lineup, will also reportedly be delayed until 2015.
Intel hopes its Braswell Atom will enable it to be one of the major players when Android makes the switch to 64-bit architectures. The company hopes to ship its Atom architecture in a large number of mobile designs, as well as 10W desktops and AiOs as the Braswell-D, by Q1 2015. Braswell is rumored to be able to bring triple display support and DirectX 11 to mobiles.
In regards to its high-end desktop processors, Intel's Broadwell architecture is also slated to come next year, after the current batch of Haswell refresh chips goes through its lifecycle. The Broadwell K will replace Intel's current line of LGA 1150 processors like the Core i7 4790 K, while the Broadwell E will come in place of the 130-140W Haswell C desktop configuration.