Intel has officially unveiled its 5th generation lineup covering everything from Celerons to Core i7s for anything from ultrabooks to All-in-One computers. The 5th gen chips (aka Broadwell) are the first to be built on a 14nm process, down from Haswell's 22nm.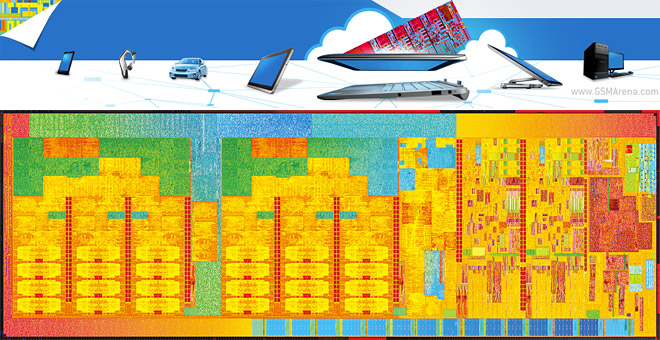 Along with Broadwell, there's the Cherry Trail system on a chip for tablets.
The process shrink makes the chips 37% smaller, even though they pack 35% more transistors for better performance. Intel claims a 24 percent in GPU speed and that encoding video with QuickSync takes only half as long.
Battery life has also been improved, you can expect to squeeze out an hour and a half more compared to a 4th generation chip. The new members of Core family are either 15W or 28W.
They have a selection of Intel-made GPUs – HD Graphics 5500 and 600, plus Iris 6100. They support 4K Ultra HD video decoding with the new h.265 codec and wireless 4K streaming over WiDi. They support DirectX 12 and OpenGL 4.3, plus OpenCL 2.0.
Besides the Cores there are Celerons and Pentiums too. The Core M that we saw on the Samsung Series 9 2015 is technically a part of Broadwell as well.
For more portable devices the Cherry Trail chipset is also built on a 14nm process and offers 64-bit computing, improved graphics with Intel Generation 8-LP GPU and Cat. 6 LTE (300Mbps) with an Intel modem. The chipset supports face and fingerprint unlocking, plus RealSense for 3D imaging.
Cherry Trail products are expected in the first half of this year. There should be beefier desktop chips from Broadwell too, but those will be unveiled later.