The Intel Atom CPU is ubiquitous in the netbook world, but Intel is working on new designs that will improve on current netbooks and move into tablet and handheld territory. There's that and a new upcoming architecture called Sandy Bridge, which would become the new high-end CPU from Intel…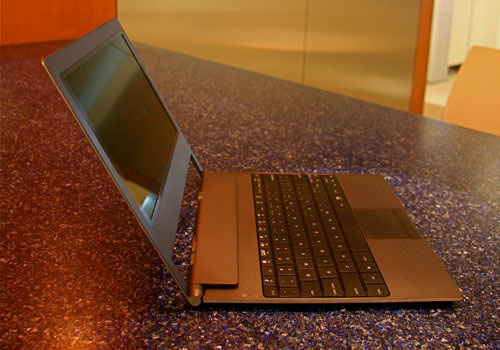 There are two new Atom architectures that Intel is working at. The first one is dual-core Pine Trail processors (current Pine Trail Atoms are single core), which will deliver more than just improved performance (could it be the N500?).
Intel showed off the Canoe Lake "innovation platform" (pictured above) that is powered by Pine Trail. It is a 14mm thin netbook, world's thinnest so far, and it runs cooler than current netbooks (this presumably also means lower power consumption). It's not quite Dell Adamo, but then again I've seen plenty of mobile phones thicker than this. Canoe Lake skips the fans for a new thermal conductivity design. Anyway, that's still a concept.
Oak Trail is another Atom architecture announced today. It is primarily aimed at tablets but also "sleek" netbooks that all run MeeGo, Windows 7 and Google operating systems. It's a System on Chip, with power consumption cut in half but still able to decode 1080p video. A myriad of devices running Windows 7, MeeGo or Google OSes (both Android and Chrome OS it seems) will be powered by Oak Trail.
Yet another Atom platform will be Tunnel Creek (getting lost yet?) – a System on Chip which will be used in embedded devices. Atom CPUs will be ticking inside Smart TVs, cars and handhelds if Intel has its way.
Finally, there's Sandy Bridge – the upcoming newest and bestest Core processors. Intel plans to start manufacturing those in late 2010 and put them into anything from mobile computers through desktops to servers.