Tablet shipments have been on the rise in 2013, but that shouldn't surprise anybody. IDC analysts tell us that a total of 217.1 million units were shipped in 2013, which represents a 50.6% YoY growth rate.
Unfortunately, though, the mature markets are already pretty saturated and there is lots of competition so the rate of growth is slowing down. The growth in 2012 over 2011 was a good 87.1%.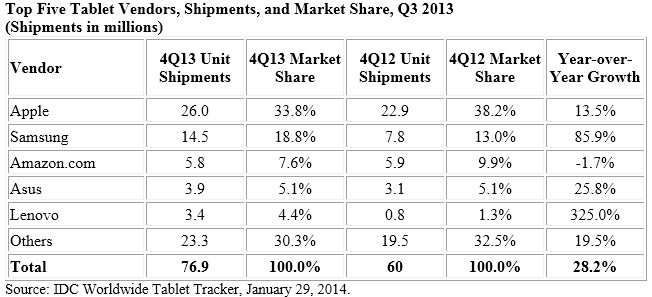 Manufacturers are turning their attention to developing markets however high-margin products such as Apple iPads are not doing that well in these regions. The YoY growth for the company of 13.5% was well below the industry average.
Still, in Q4 2013 Apple has remained the top tablet supplier (33.8% market share) by a wide margin with Samsung coming in second with a market share of 18.8%. Amazon (7.6%) is third with Asus (5.1%) and Lenovo (4.4%) following closely.
Apple's market share was larger in 2012 (38.12%), but Samsung's been only improving compared to last year (13%).
"It's becoming increasingly clear that markets such as the U.S. are reaching high levels of consumer saturation and while emerging markets continue to show strong growth this has not been enough to sustain the dramatic worldwide growth rates of years past." – said Tom Mainelli, Research Director, Tablets, at IDC. .
Overall, it seems 2014 would represent another challenge for tablet makers. Now that the markets have reached noteworthy saturation, Apple and Amazon seem better positioned to continue cashing in, as they are making serious money off apps and content, unlike Samsung, which is mainly making money off the devices themselves.