IDC has issued a report in predicting that in 2013 global smartphones sales will reach 958.8 million units. That's a growth of 32.7% compared to last year smartphone shipments which accounted to 722.5 million units.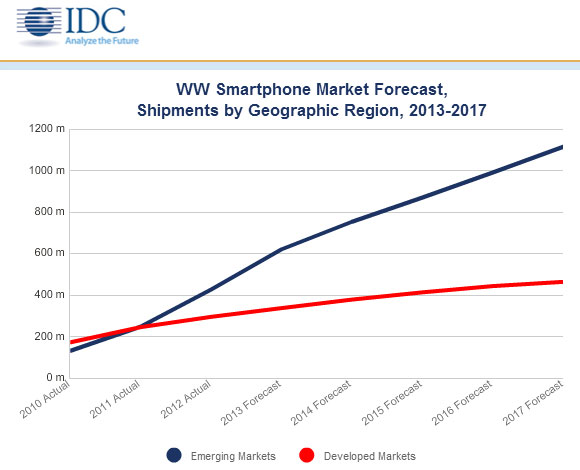 As a result of this growth, 52.2% of all mobile phone shipments will be smartphones. This effectively makes 2013 the first year in which smartphone shipments surpass those of feature phones, if only by a four of percent points. IDC believes this trend won't stop soon as user demand for handheld devices is growing both in the developed and emerging markets.
Somewhat surprisingly, developing markets are expected to account for 64.8% of all smartphones shipped during 2013, which is up from 43.1% in 2010. Because of this the average smartphone selling price is falling from $443 in 2011 and $407 in 2012 to $327 in 2013. The IDC estimates that by 2017, the average smartphone will carry a price tag of $309.
Here are Ryan Reith's, program manager for IDC's mobility trackers, thoughts on this.
At a time when the global smartphone market is growing at 33% year over year, average selling prices have plummeted, dropping 8% in 2012 with another 9% expected this year. Smartphones have become increasingly common in emerging markets and it is often the first affordable means of computing for these markets. These are markets where average personal income is far less than in developed markets, and therefore vendors have been forced to create smartphone computing experiences for the low end of the market.
Handset manufacturers tend to keep the cost of their devices down by producing more 3G than 4G smartphones. In 2013, 70.9% of the smartphones shipped will be 3G-only, with their number gradually falling to 50.1% in 2017.