According to a preliminary data from the IDC, the tablet market is set to skyrocket in 2013 with a very promising first quarter. The data is still preliminary, but IDC expects to see a 142% jump in tablet shipments this quarter with a total of 49.2 million units shipped – more than all of 2012′s first half.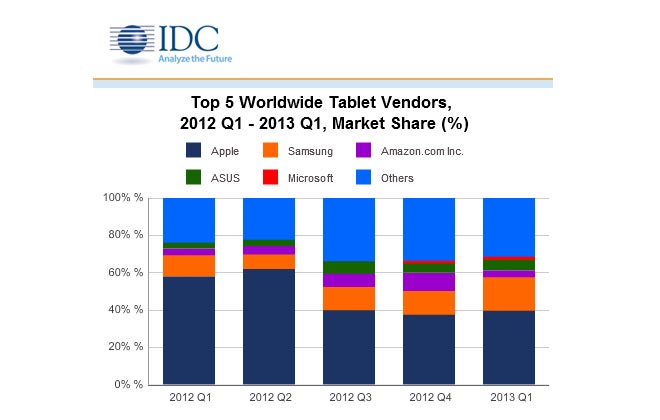 Apple continues to be at the top of the tablet sales chart for Q1 2013, managing to ship 19.5 million units, which secured it a 39.6% tablet market share. Year-over-year growth for the company is impressive as well at 65.3%, but not nearly as impressive as the rest of the tablet manufacturers.
Chief among which are Samsung and ASUS, which shipped 8.8 million and 2.7 million units, respectively. The South Koreans mark a 282% growth over the same period in 2012 and claim 17.9% of the tablet market. On the other hand, while ASUS can't quite match Samsung's tablet market share with its 5.5%, the company is having a blast with 350% YoY growth. Fourth and fifth places are taken by Amazon and Microsoft, respectively, with 1.8% and 0.9% market share.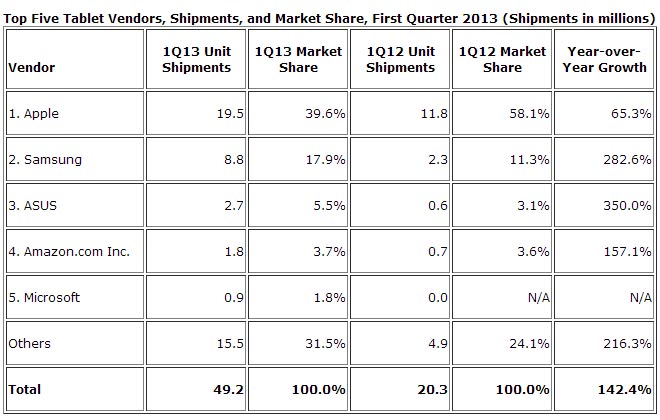 With the slew of tablet manufacturers choosing Android as the operating system for their slates, it's unsurprising that Google's mobile OS takes 56.5% of the market. The OS runs on 27.8 million of all tablets sold in Q1 2013, a 247% jump compared to Q1 2012.
Apple's iOS is growing its presence in the tablet sphere, chiefly thanks to the iPad mini. At 19.5%, iOS takes 39.6% market share, a marginally lower result than its Q1 2012 result of 58.1% market share.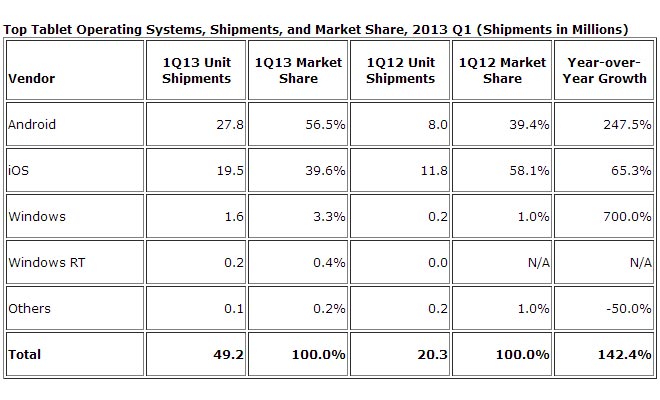 Microsoft is taking the third place as an tablet OS vendor. Windows and Windows RT aren't doing so hot at 3.3% and 0.4%, respectively. The top dogs over at Redmond are going to have to do better than the Surface and Surface Pro, which seem to be having hard time making a real dent in the slate market.