Huwaei just announced two new wearable devices – the TalkBand B2 and the TalkBand N1, and an Android Wear smartwatch, dubbed simply Huawei Watch.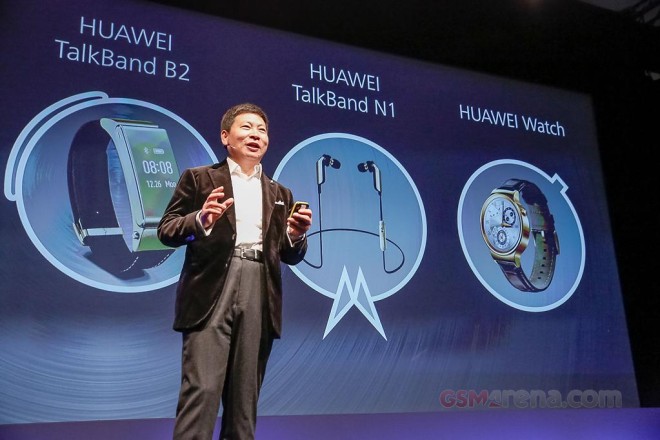 Huawei is not particularly big on the wearable market. The company does, however have a history with experimenting in the field, particularly with the TalkBand B1 – a wearable Bluetooth handset. The interesting device saw the light of day last year and was definitely met with mixed response. Today it's releasing a follow-up on that along withn Android Wear smartwatch.
Huawei TalkBand B2
First up is the TalkBand B2. As the name suggests it is once again a Bluetooth headset that can be strapped to your wrist. But this time around it brings a whole lot more to the table than its predecessor. The device looks exquisite and very stylish. The main use case is still practically the same – the main part of the wearable snaps out of the band to reveal an earpiece, which it tandem with the built-in microphone turns it into more than familiar Bluetooth headset. But TalkBand B2 can do a lot more as a fitness band as well.
Huawei TalkBand N1
Joining the ranks of the new B2 is another new member of the TalkBand family – the N1. The N1 is generally a wireless, Bluetooth stereo headset, but it also offers activity tracking. The little device combines high quality sound, MEMS microphone with noise cancelation and a step counter in a stylish water and dust-resistant package, perfect for an active lifestyle.
Huawei Watch
Last, but definitely not least, Huawei unveiled a new smartwatch simply named the Huawei Watch. It is a perfectly round wearable, with an impressive stylish design and hardware to go along with it.
The two videos for the smartwatch in question did leak out earlier today, so our most avid users should already by familiar with them.