Wearables are a hot topic here at the MWC and Huawei brought its own – a smartwatch with a twist. The TalkBand B1 gets its name from being a Bluetooth headset that can be set into a rubberized band to be worn as a smartwatch.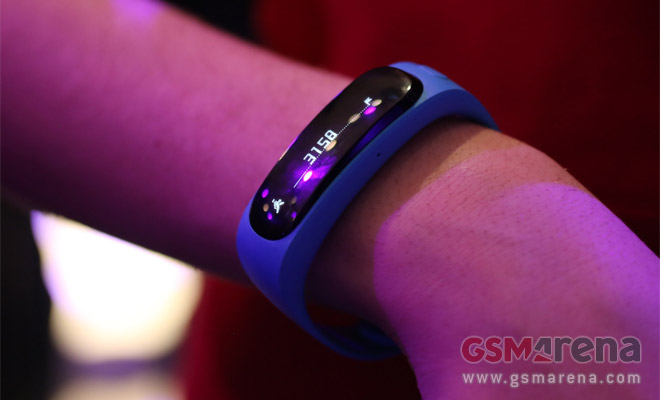 This double functionality could be what sets the TalkBand apart from the other smartwatches we've seen so far.





The Huawei TalkBand B1 is a Bluetooth headset/smartwatch hybrid
The TalkBand B1 features a 1.4″ curved display and measures a little under 15mm thick. You can pair it with your phone – or MediaPad X1 tablet – with the NFC connectivity, then Bluetooth 4.0 LE takes over.
The TalkBand B1 justifies its sporty looks with an IP57 certification, which should make it water-resistant enough for everyday use. There's a built-in step counter and calorie counter to help you train and an indicator of your sleep quality to help you rest.
Of course, it does voice calls too as a regular Bluetooth headset when there's a phone connected.
The battery capacity is relatively tiny – 90mAh – but the device is power efficient enough to last six days of usage. What we found strange is that the battery can take up to two hours to charge.



The pogo pins for charging • the clasp hides a microUSB plug
Speaking of charging, that's done with the wrist band, which features a USB port and connects to the TalkBand unit with pogo pins. The clasp on the band could have been better though – it comes off too easily and is hard to put back.
The TalkBand B1 will cost €100 when it comes out – it will launch in China next month and expand to new regions (including Western Europe and Japan) in Q2.