We've seen some crazy speaker ideas in our time but the Gramohorn II designed by Justin Wolter by commission of HTC UK is one of the cookiest. It's a dock that features two horns (like on an old-timey gramophone, hence the name) that is designed specifically for the stereo BoomSound speakers on the HTC One.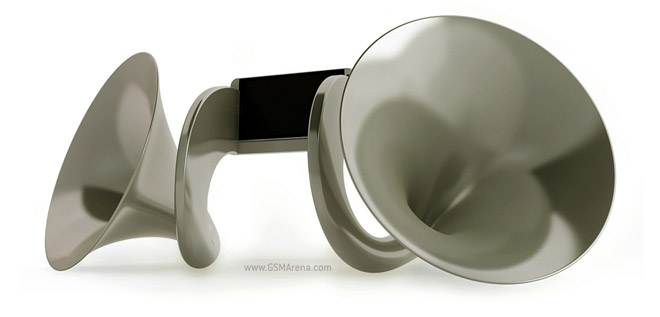 HTC UK is using the Gramohorn II to kick off its "Here's To Creativity" campaign. Strange that there's no room for the BoomBass speaker, but still it's an interesting design piece, which goes well with the uniquely designed HTC One.
Anyway, there are two versions of the Gramohorn II – a plaster-based and a metal-based. The plaster one gives you a choice of 25 colors and it will set you back £999 ($1600/€1200). There will be 100 pieces made.
The metal one is more premium and comes in three finishes – Silver, Gold and Wheat Penny (all matte). Only 10 pieces will be made of each color, so they are fairly exclusive and have a price to match – £4999 ($8000/€6000).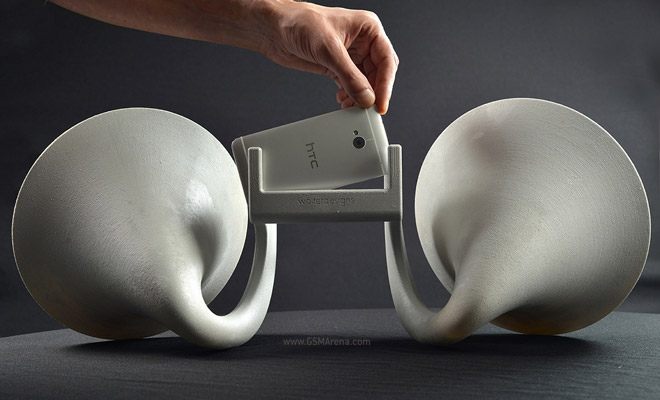 If you want to order one, you should throw in £20 for delivery to the UK and Ireland, £40 for Europe and £80 for the rest of the world. The lead time on the plaster Gramohorn II's is 3-4 weeks, the lead time on the metal ones is 2-3 weeks.
In case you were wondering about the 'II' in the name, the original Gramohorn (also designed by Wolter) was a single horn for the iPhone.