HTC has posted an infographic dedicated "little things that pack a big punch". Needless to say, it's a well done attempt at teasing the public for its One Mini smartphone.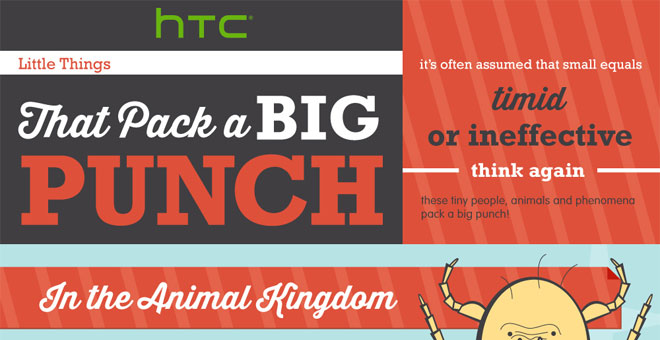 The phone itself has appeared multiple times on camera and HTC's start of the One Mini's marketing campaign is a good sign we can expect it to debut soon.
Rumors have it the HTC One Mini will make use of the same 4MP UltraPixel camera as its bigger brother. There is also reportedly going to be a 1.6MP camera front-facing camera for video chats, while the 4.3-inch screen is said to have 720p resolution.
Back to the infographic at hand – it shows that it's not necessary to be big in order to be strong, fast, powerful or successful. Here's the full picture for your viewing pleasure. Be sure to check all the fact blurbs, it's worth the read. Get ready to scroll a bit for this one, though.
Here's hoping that HTC could finally be the company to deliver the pocketable high-end smartphone we and all of you, who've signed our petition, have been waiting for.