We already saw the HTC One Max in the flesh flaunting its imposing figure next to the HTC One and HTC One mini. The phone is yet to debut, but weirdly you can pre-order an HTC One Max case right now.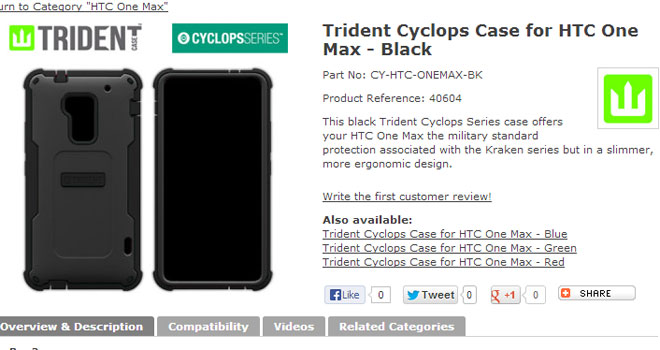 Case maker Trident has outed its Cyclops series of cases for the HTC One Max confirming some of the phone's features. The large cut-out at the back of the case is further evidence for the fingerprint scanner that has been rumored as one of the phone's unique offerings.
The HTC One Max is rumored to get its name from its 5.9″ 1080p display and a Snapdragon 800 chipset breathing inside it. We have seen the phone in the flesh a couple of times now, and we expect it to give the Sony Xperia Z Ultra (check out its hands-on video) a real run for its money.
The HTC One Max is expected to arrive with the same 4MP UltraPixel camera as the HTC One. At the front HTC's phablet will pack a 2.1MP wide-angle camera, again the same as the One's.
Robert Downey Jr. is already working hard to promote the One Max and we are hoping HTC will really deliver a device to live up to all the hype.
As far as the HTC One Max case is concerned you can find more information about its pricing and availability below. It's also going to be available in green and red skews.