Blink and you'll miss it – Amazon UK had HTC Ace/Desire HD listed for sale (actually it was "temporarily out of stock"). It was a slip up, which they quickly corrected, but it does confirm the name and gives us a price point too…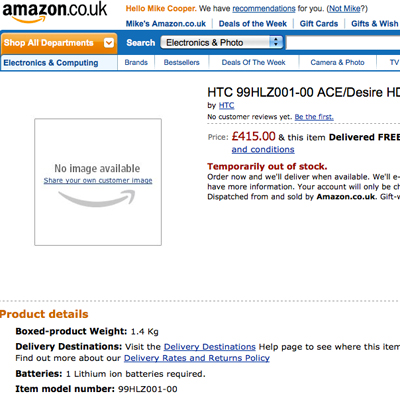 The Ace is the code name for what everyone expects to be called HTC Desire HD – think HTC Evo 4G, except on a GSM network and no 4G. That means a 4.3" WVGA touchscreen, 1GHz CPU, Android 2.2 Froyo an 8MP camera with 720p video recording.
As a reminder, HTC is holding an event on 15 September in London – and the likely suspects to be announced on that even are the HTC Desire Z (a.k.a. G1 Blaze, Vision) or the HTC Desire HD.
With this spill from Amazon, it seems a safe bet that the Desire HD will be the star of the show on the 15th of September. The price that Amazon had listed for the HD is 415 pounds – 505 euro or 650 US dollars.
Amazon didn't list a date when the HTC Desire HD will be available "again", so we don't have an exact launch date yet – I guess we'll just have to wait till next month to find that out.