HTC just announced its first ever tablet – the 7-inch HTC Flyer, which could only mean one thing – began officially the tablet wars have!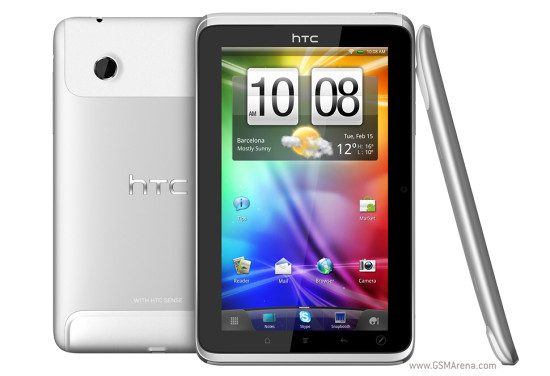 What distinguishes the HTC Flyer from the competition is its aluminum unibody. HTC's firstborn tablet is powered by a uberclocked 1.5Ghz single-core processor and a 1GB of RAM and packs 32GB of internal storage. It's even expandable via a microSD card.
The HTC Flyer has a 7-inch LCD with a capacitive touchscreen and a resolution of 1024×600 pixels. HTC says it'll ship with Android 2.4 covered by a HTC Sense UI that's been specifically designed for tablets. A 1.3MP front-facing and a 5MP camera at the back are present, and as far as battery goes, it's a 4000mAh one, which HTC claim can last up to four hours of continuous video playback.




HTC Flyer live hands-on photos
Other nice features include a special stylus dubbed as "Scribe technology", which recognizes your hand-writing and could be used for quick sketchups. Alongside the notes which can be taken with the stylus comes the Timemark feature. It lets you record audio to accompany notes.
And there's also the OnLive cloud-based streaming game service, which basically lets you play console games on the go. Streaming over Wi-Fi to a TV set is also an option with this service.
Pricing is not yet available, but expect the HTC Flyer to come crashing some time in Q2.