HP announced today that it's launching a refreshed batch of the 14-inch Pavilion dv4 and Envy 14 notebooks as well as a redesigned Mini 210 netbook. In addition to them, HP has also lifted the cover of two new EliteBook models for business users – the 2560p, 2760p and 5330m.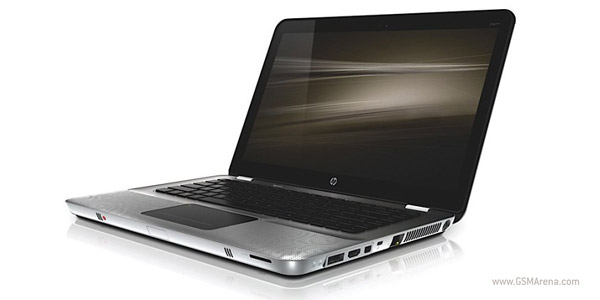 Let's cut to the chase starting off with the Envy 14. This sleek looking 14.5-inch notebook is unsurprisingly getting some juicy Sandy Bridge processor options, high-speed USB 3.0 interface and HP's imagepad which uses image sensor technology for advanced gestures. The gorgeous aluminum body laptop is going on sale June 15 with a starting price of $1,000.
Next is the 14-inch Pavilion dv4, which features an improved CoolSense technology from HP. The HP CoolSense basically combines the use of hardware and software to keep the machine cool. The notebook weighs under 5 pounds and will come in two color variations – pacific blue and espresso black. It will hit the shelves on May 18 with a base price of $600.





HP Pavilion dv4 official photos
HP also decided to refresh the Mini series netbooks with the launch of the Mini 210. The netbook gets a mild redesign, which replaces the last generation's lids with a candy-colored ones. Also new is the seamless touchpad and the edge-to-edge 10.1-inch screen with a maximum resolution of 1366 x 768. For the first time, the netbook will punch some decent sound thanks to the Beats Audio system, which is on board. The cost for all this starts from $300 and will be available for purchase on 15 June.
The business-oriented HP EliteBook 2560p, 2760p and 5330m also get the latest Sandy Bridge processors from Intel. The HP EliteBook 2760p is a 12.1-inch convertible tablet with a choice of i5 and i7 Sandy Bridge CPUs and a standard 6-cell battery, which HP promises will keep you going for 5.5 hours. The price? It's available now for $1,500.





HP EliteBook 2760p official photos
Next is the replacement for the 2540p, the EliteBook 2560p notebook, which comes with a bigger, 12.5-inch display with 16:9 resolution. HP is also very proud of the built-in optical drive the 2560p comes with. Combine it with its beautiful aluminum and magnesium body and the you get an impressive weight of 1,66kg. Not bad, considering it's starting price is $1,100. It should be available on 23 May.





HP EliteBook 2560p official photos
Finally, the ProBook 5330m gets an unique two-tone aluminum chassis, which with the addition of Core i3 and i5 Sandy Bridge CPU options, 13.3-inch screen, and Beats Audio for a clear sound makes up for a really sleek notebook. The price starts at $800 and it's currently on sale.
All these new models aren't everything that HP announced today. The company has also started offering a 3G service called HP DataPass. It's available only in the US and costs $5 for 75MB of data. The service actually comes from Sprint, but HP is reselling it to its customers without any fees, activation charges and contracts, which is kind of neat. HP also has a 1000MB plan for $30.