Ever since HP bought Palm I have been itching to find out how the webOS would evolve and in what devices would it be featured next. We just got hold of a Palm UK newsletter confirming that the press event on 9 February is about the latest and greatest HP-slash-Palm devices and even more.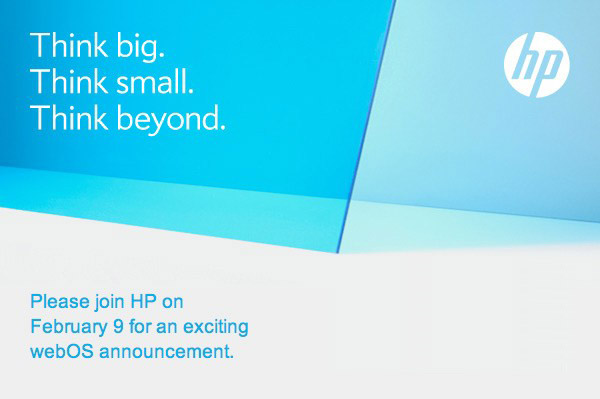 Earlier this month HP teased its upcoming press event is going to be about the WebOS. But there was no word of Palm. It's almost sure now that on 9 February they are going to announce a tablet, a smartphone along with that update of the webOS.

HP is holding their cards close to the chest and aren't disclosing anything about the upcoming press conference. Their "Think big. Think small. Think beyond." tease was so far the only thing they said.
Palm's newsletter is being quite straightforward on the matter. Here's how they put it:
Many people were expecting to find out all about new devices and upgrades at the recent CES 2011 Exhibition in Las Vegas but HP is saving all its big guns for the announcement next month. We know a lot of you have been clamouring for something big and on February 9th, you'll get it. As well as something small and something (hopefully) beyond your expectations!
Speaking of the "big" product announcement, a couple of days ago we saw a very plausible HP tablet specs along with some photos, which look like the real deal. The HP tablet, dubbed Topaz, should be the first tablet with WebOS and will make use of the Qualcomm MSM8660 Snapdragon platform with two Scorpion cores running at 1.2 GHz and the new Adreno 220 GPU.
And about that "Think small. Think beyond" part, we would have to wait until 9 February. But it's almost clear that it's a smartphone of some sort.
Meanwhile, share your thoughts on the upcoming devices from Palm in the comment section. Now that they are under the umbrella of HP, do you think the upcoming devices are going to be better (and better marketed) than before?