Uber may be the best thing since sliced bread when it comes to mobile taxi services, but what if there was a way to lower the cost of your ride by sharing a car with other passengers?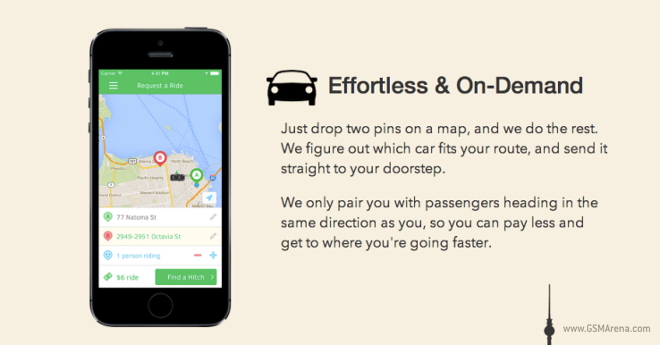 That's the question that Hitch, a new ride-sharing mobile application, looks to answer.
Hitch is centered around a logistics engine that specializes in finding riders who share a common route, this way, cars won't waste gas or time by picking up and dropping off passengers at different points along the route. This way you can share the cost of the ride with your fellow hitchers.
So how does the process work? Well instead of telling Hitch where you're getting picked up, you tell it what your final destination is. If you have multiple people riding in the car, you'll also feed Hitch that bit of information as well.
Hitch will then scan the area to see if anyone else requested to be dropped off at a location that it's the vicinity of your final destination, and give you an estimate.
There's also a social aspect built into the application that allows the passengers access to each other's mutual facebook friends. You can rate your Hitch driver, along with your fellow passengers, so Hitch users can see who's fun to have in the car and who isn't.
Like Uber and other mobile taxi applications, Hitch conducts criminal background checks on its drivers and they are heavily insured for when passengers are riding in one of its taxis.
Are you interested in trying out Hitch? Well, anyone in the world can try it out, as long as they live in San Francisco. Currently only residents in the City by the Bay have access to Hitch's services Monday through Thursday, 5:30pm-11pm, Friday 5:30pm-2am, Saturday 11am-2am, and Sunday 11am-8pm. If it catches on, however, expect it to be spread to more areas, a la Uber.
If you've tried out the service, let us know how it's worked out for you in the comments!