The purported Motorola Phone X might be called simply "Google X" as an AnTuTu score card suggests. The card, which emerged today, gives us a glimpse of what to expect from the first Google flagship designed by Motorola.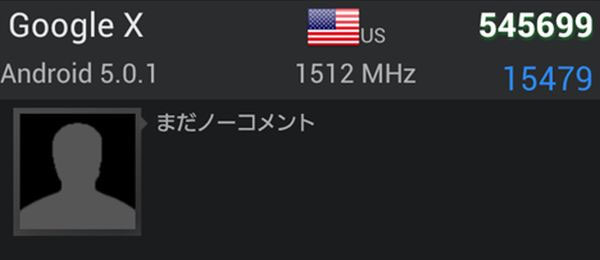 Additionally, the benchmark reports that the device is running Android 5.0.1. This gives everyone a tiny bit of hope that the next Android iteration would be ready for prime time at Google I/O 2013 in May.
The benchmark score is 15479, which is far from breathtaking, considering the Galaxy S4 scores 24716 in its quad-core variation. Could Google and Motorola opt in for the more affordable, but slower versions of Qualcomm's Snapdragon chips, like the 400? Maybe, since the search giant is famous for selling devices with the Nexus brand for more than reasonable pricing.
However, there's a very strong possibility that the screenshot is faked. Who knows! The closer Google I/O gets, the harder the mysterious (Motorola / Google) X phone rumor mill will spin, so don't forget to put salt on those rumors as needed.