Thanks to photo-sharing site such as Picasa, Panoramio and Flickr, Google Maps StreetView now goes off the street showing pedestrian-only zones in almost seamlessly stitched photo view.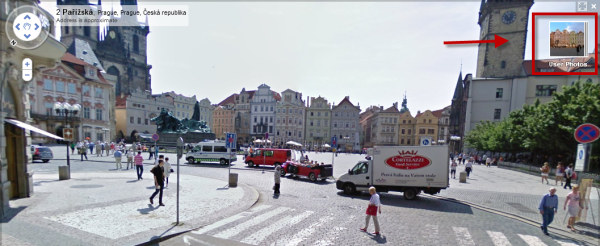 Hats off to the Street View folks – they're doing their best to enable Street View even in locations where cars don't go. They launched the Street View Trike to map out parks, trails, university campuses, zoos and so on. Then came the Street View snowmobile to cover the ski tracks in the mountains just in time for the winter Olympics.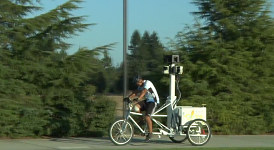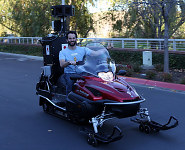 The Google Street View trike and snowmobile
But even with all that there are places that the Street View car/trike/snowmobile/horse-drawn carriage can't go. The guys at Google give the Orologio plaza in Prague as an example, which is pedestrian only. And yet you can browse most of it through StreetView style.
This is possible thanks to the user contributed geotagged photos. The system works much like Bing's Photosynth does. StreetView pulls all photos of the from Picasa, Panoramio and Flickr, stitches them and overlays them in StreetView kind of interface to give a closer look or a different perspective on something. There's even a view from one of the towers available, something the Street View car can never get. It's time those guys get a helicopter.
Anyways, the StreetView guys have been working on that new UI for about a year, but they're still refining the interface – the latest change places small "orbs" in the current view, which indicate that a user photo is available for that part of the view, e.g. if there's an orb on one of the buildings, then there's a close up view of that building. A rectangle indicates what part of the building is visible in the photo and from what angle.
There's another type of orb – the one placed around the edges, which let you look around. Instead of hunting for the edge orbs, you can click and drag, or you can just use the thumbnail list at the top of the screen.
Have a look at this video, it makes it easier to understand how the orbs work:
I wonder, now that most everyone has a phone with a decent camera and there are so many people tacking photos all over the place, how long will it be before Google doesn't even need a car/bike/etc?
That should probably ease thing a bit since the EU authorities only recently mandated that due to privacy issues Google can keep UK Street View pictures in its record for only 6 months – that means the Street View cars must go and re-photograph each street every half a year. I can imagine that can be a pain.
But all this hasn't put Google down – keep up the good work guys!
Source: Google Lat Long Blog, Telegraph