YouTube unveiled its subscription service, dubbed Music Key, a couple of days ago. One of the most interesting bits about it is that it actually includes a subscription to Google Play Music All Access, which means you'll also be able to stream the more than 30 million songs in that catalogue, and get expert-curated playlists too.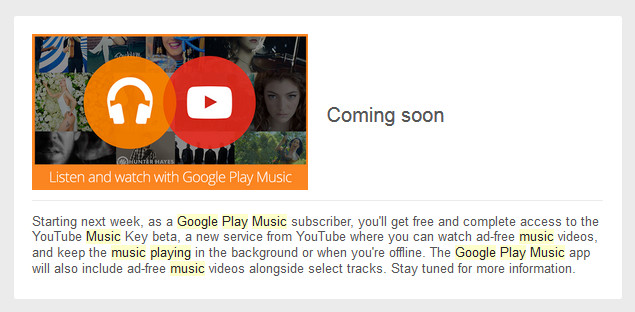 What hasn't been clear at all so far, however, is what would happen to those people who already subscribe to Google Play Music All Access. Will they get access to YouTube's Music Key for free? Thankfully, that question now has an answer.
And it is a resounding Yes. Not only that, but if you pay for Play Music All Access, you won't even need to do anything – you'll automatically get access to YouTube Music Key as it rolls out. Speaking of which, the new YouTube service may actually start becoming available sometime during next week, as you can see from the image above.
YouTube Music Key will launch in beta, and it will be invite-only for an unspecified amount of time. That said, if you do get an invite, and subscribe to Google Play Music All Access, you'll be able to use Music Key for no additional cost.