The Google Play Store has been available in India since its inception, but so far, the only content you could purchase were apps and games.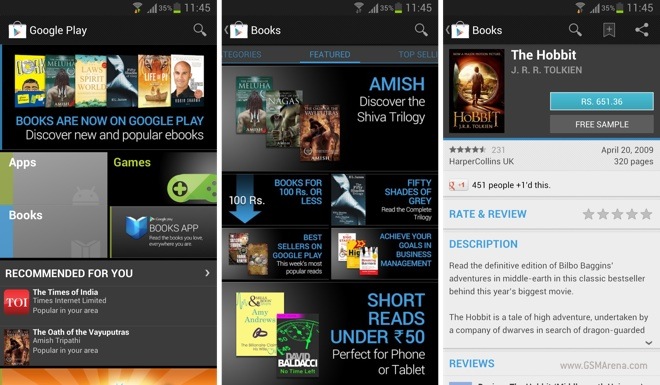 Google has now added a second category to the store with the introduction of Google Play Books. You will see the new addition immediately after launching the Play Store app on your Android device. Just like the apps, the books are arranged into various categories as well as groups such as books below ₹100, books below ₹50, etc.
The book library seems to be on par with those from other regions, with the inclusion of several Indian authors as well that you may not find in other regions. The prices seem to be converted from their US counterparts so could be higher in some cases, compared to Amazon's Kindle and other ebook stores in India. 'The Hobbit', for example, costs ₹166 on Amazon and ₹651 on Play Books. Similarly, 'A Game of Thrones' costs ₹280 on Amazon and ₹623 on the Play Books. 'Fifty Shades of Grey', however, is priced similarly on both the stores.
The Google Play Books store can be accessed on your Android smartphone or tablet as well as on iOS devices through the Play Books app on the App Store.
The launch of Play Books before the music or movies store comes across as an interesting move from Google. If you may remember, Apple recently launched the iTunes store in India, which includes music and movies but failed to launch the iBookstore, which could be the reason why Google decided to start with books first, to take advantage of Apple's absence in the market.