The availability of the Google Nexus 7 tablet continues to expand. Last week France, Germany and Spain got it, now it has reached Italy and the Netherlands too. It's also cropping up halfway across the world in Taiwan and Japan too.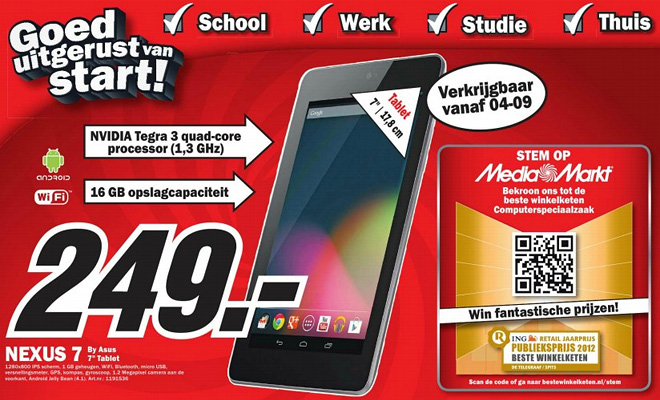 People in the Netherlands can grab a Nexus 7 16GB for €250 right now (16GB/€250 is the deal other Euro countries got too). We only managed to find the deal in a MediaMarkt brochure, but if you find it elsewhere, we'd appreciate a link.
Update: Dixons Netherlands also have the Nexus 7 16GB and will be shipping it in 10 days (or longer). Then there's BCC, who promise a home delivery within two weeks. Thanks, Miquel!
MediaWorld Italy (which is part of the same chain as MediaMarkt) also has the 16GB tablet in stock for the same price. The Italian Asus Store on the other hand has the Asus-made tablet on pre-order with September 17 listed as the expected shipping date. Fnac.it is taking pre-orders with a September 14 shipping date.
Amazon Japan has both the 8GB and 16GB versions of the Nexus 7, but the smaller version is priced at 26,200 yen ($335). The 16GB version costs 30,500 yen ($390). Both are in stock, but there's only a few of them left.
Taiwan Mobile is taking pre-orders for the 16GB Nexus 7 and expects to ship the tablets on September 12. It's priced at NT$8,990 ($300).
Thanks to Orhan for the tip!