Behold! The Google Nexus 5 is here. Due to its insane popularity, it's a bit hard to come by, but now that it's here, let's get down to our hands-on.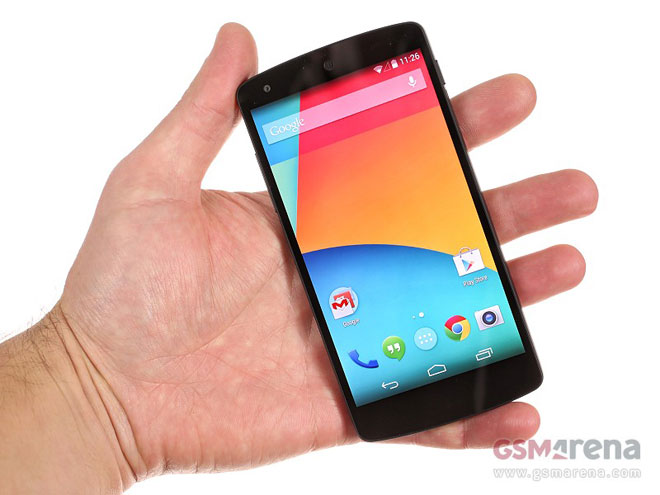 Made by LG but designed entirely by Google's finest, the Nexus 5 is what the tech-giant thinks is the best vessel to showcase the true power of pure Android. Just like the Nexus 4 was built using the LG Optimus G framework, the Nexus 5 uses the groundwork laid out by the LG G2.
The Nexus 5 is a true powerhouse for 2013 just like the Nexus One was for 2010, and the pricing is equally as competitive. It's powered by a 2.3GHz Snapdragon 800 chip with Adreno 330 GPU with 2GB of RAM. In a true Nexus fashion, internal storage is either 16GB or 32GB with no microSD card slot in sight. That's perfectly fine for Google, though, as the company is as ever pushing its users to use their Drive cloud storage service.
The display of the Nexus 5 is 4.95″ IPS LCD boasting fullHD resolution. This results in a pixel density of 445 ppi and is only trumped by the HTC One with its 469 ppi. While we'll save the detailed overview of the Nexus 5 display for our full review, we are generally pleased with the color reproduction and brightness levels it achieves.
The build of the Nexus 5 is another pleasant surprise for us. Yes, it's not quite the premium feel of the Nexus 4 with its glass back, but we don't mind the great feel of the soft-touch plastic of the black Nexus 5. It's not as prone to fingerprints or sweat as you'd think and is partly responsible for the comfortably light 130 grams that the Nexus 5 weighs.
Mind you, the back is not removable, despite the evident line separating the front and rear plastic parts of the phone. LG has made the volume rocker and Power/Lock key out of ceramic and they feel very sturdy.





The ceramic buttons feel great
The Nexus 5 debuts the latest version of Android 4.4 KitKat. It's not a major overhaul of the Android ecosystem, but brings a lot new experiences across the entire operating system.
Check out the Nexus 5 hands-on video below to see the phone in action as well as some of the key new features of Android 4.4 KitKat.
We're hard at work on our full-blown Google Nexus 5 review complete with a our usual full suite of tests. Be sure to check back with us soon to see what the Nexus 5 is all about.