Google's Gmail, YouTube and Google Play services apps are the top downloaded Android apps from the Play Store with Maps and Facebook following. The five apps have an install base between 500 million and 1 billion each.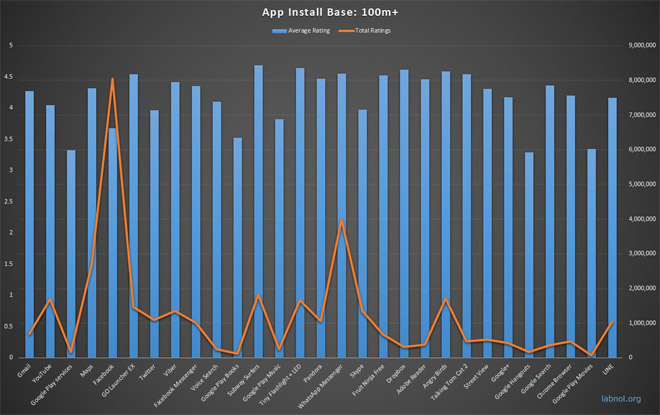 The information has been gathered by tech blog Digital Inspiration, which has used data from the Play Store. The graph above shows the average user rating of an app (blue bars) as well as the total number of users that have left a rating for said apps (orange line).
Basically, the Facebook app is the only non-Google app that boasts over 500 million downloads. The other four come preinstalled on every Android smartphone, so their number of downloads isn't that surprising.
A total of 65 apps have been downloaded more than 50 million times each. Out of them all, the one with the highest average user rating is Brightest Flashlight, which is a torch app. Facebook and Whatsapp lead the number of ratings with 8 million and 4 million users casting their votes, respectively.
Go Launcher Ex home screen replacement app sits on top of the 100+ million downloads chart followed by Twitter, Viber and Facebook Messenger; Google's Voice Search is fifth. The list of apps with an install base between 50 million to 100 million is headed by GO SMS Pro, KakaoTalk and Google Translate.
As far as games are concerned, the most popular titles are Subway Surfers, Fruit Ninja, Angry Birds and Temple Run. You can check out the full resolution graphs following the source link below.