Cloud storage has become so widely spread and popular that most users rarely think about what service they are using and who is giving them all of the free online space. This of course is the desired effect with major players like Google Drive and Dropbox integrating their platforms so seamlessly with other applications that using them is as natural as your own hard drive. Microsoft is also big on the cloud storage scene, but oddly enough is generating far less hype, yet if you are on a recent Windows PC or a Lumia device, chances are that you already have a OneDrive account.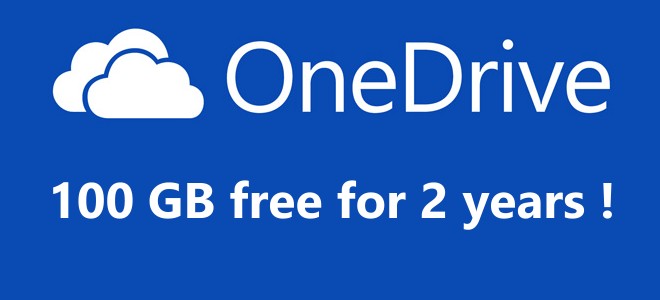 Just like the aforementioned Google service, Microsoft also offers 15GB of free storage out of the box. And while you may be thinking that you really don't need another service to do the same the fact of the matter is that its client is already integrated in Windows 8 and newer version and puts you one click away from synching your files to the cloud. Microsoft has a limited time promotion through the Bing Awards program that can significantly sweeten the storage deal with 100 GB of free storage for two years.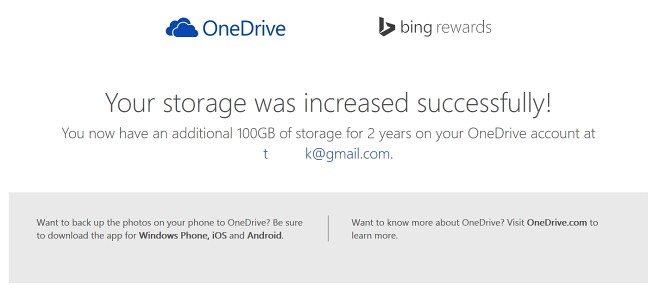 The offer is definitely not new, but it was only available to US citizens. There were workarounds for non-US users, but it was too much of a hustle for a service most are not sure they really need to begin with. Microsoft has obviously realized this error and the process of obtaining the extra online storage is now simpler than ever. All you have to do is hit this link and sign into your Microsoft account. That's it. Now you can enjoy a pretty generous 100GB for the next two years.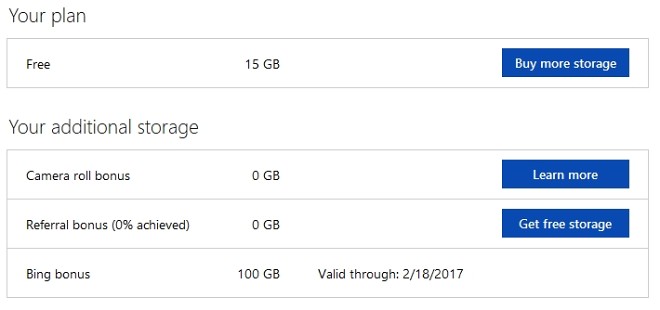 So if you were wondering where to back up your ever-growing photo archive or are simply enjoying the seamless document sharing capabilities of you Windows be sure to take a minute and claim the extra storage space. After all it's free and up for the taking.