Motorola is so keen on working on its upcoming devices that it seems to have forgotten about its currently available ones. According to James King, the company's European marketing director, it isn't quite sure whether the MILESTONE will ever get the eagerly anticipated Android v2.2 update.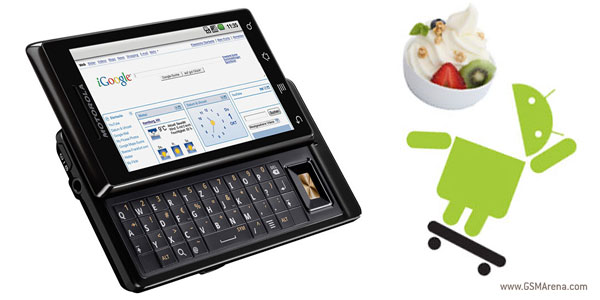 I, like many other Motorola MILESTONE owners, have been thinking that this update is in the oven and is coming any moment now. But apparently, the Motorola team hasn't started working on it yet. As James King says, the decision whether the Motorola MILESTONE is getting a Froyo treatment or not has not been made yet. Here is James King's post on Facebook:
Next European Milestone and 2.2 (Froyo). I have expressed over the last few days that the decision is pending. The team here has been collating key pieces of information and views from this community in the last month and providing input to relevant teams in Motorola so they are aware. I am pushing for that decision to be made as quickly as possible, and we can then all go from there. Some others ask why the decisions on upgrades take so long, and why does implementation then take much longer still. What I can say and have stated recently is that upgrades are not a walk in the park. Sure there are shortcuts that people can take, but when you have to integrate software to a specific hardware, then test it and integrate with third-party applications, let alone any innovation from ourselves, plus then get approvals to make this all official and safe… it's is a big undertaking that requires planning and resource and third-party coordination to see this all through. As I say, once we have decision, we will inform. JK
The MILESTONE was the device that brought Motorola back in the game and, sadly, the company is giving up on it. But here comes the funny part. As plenty of Motorola customers point out, since day one the MILESTONE web broswer has been advertized as "Flash 10 ready" and that was one of the phone's major advantages over Apple's iPhone. However, in order to get Adobe's Flash Player 10.1 up and running on the MILESTONE, the device should first be given a Froyo treatment.
So, if Motorola decides not to update their Android-based smartphone to the latest (so far) OS version, the company will lose plenty of its fans. This could also mean that the same scenario will repeat on and on with other (future) Motorola devices starring in the main role. That sounds like a serious turn-off to me. I think I'll go for an HTC smartphone instead of Motorola's next time I'm shopping Android.