Get ready for some SIM card envy – it seems that phones with 4 SIM cards and quad-standby are a standard in China. A while back there was the OTECH F1, which I can only assume sold well because we just got the scoop on four NEW models, all of which have 4 SIM cards on active standby all at the same time.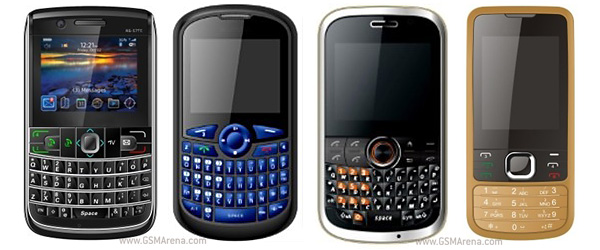 You can have a BlackBerry looking one, one that looks like a Samsung, or maybe you fancy a Nokia or a Motorola. These phones have it all, a whole family worth of phone numbers, a TV receiver, stylish looks and all go for about $30 a piece…
The four models are manufactured by T&T and cost $28.5-$33.5 (€20-€24) per unit (minimum order 50 or 100 units, depending on the model). Call it $30 on average, so for about the price of an iPhone 4 you can have as much as 200 active SIM cards in a total of 50 of these phones – plus the start of a potential geomagnetic storm.
Anyway, the X99 model (the BlackBerry look-alike) boasts a 2.2-inch "spreadtrum" (huh?) screen and a full portrait QWERTY keyboard. It's the priciest of the bunch but that's stretching the meaning of pricey. I can imagine buying four prepaid SIM cards might cost you more than getting the X99, which is priced at $33.5 and comes in 3 colors.
There are two more portrait QWERTY phones – the Q400 and T010. They have 2.0" and 2.3" screens respectively and come in a variety of colors.
Finally, there's the 6700F (wink, wink), which is a steal at $28.5 even sans the QWERTY keyboard.
All four models are quad-band quad-SIM quad-standby, have TV and FM receivers, 2 cameras, microSD card slots (for cards up to 8GB), Java and Bluetooth. They come with 1 year warranty too.
One feature you won't see in an iPhone or an Android is that you can order one of these babies with a custom logo. So the question is – what logo would you design for yourself (comments section is open for business).