Well, here's something curious that popped into our email inbox – the OTECH F1. You might want to sit down for this – it has four SIM cars. Yep – four, 4, f-o-u-r. But wait, there's more! All four cards are active all the time, not just one or two…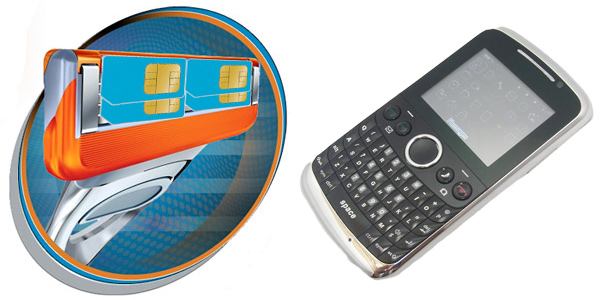 This is getting ridiculous – safety-razor level of ridiculous. It started of with one razor blade, uh sorry, SIM card, then came dual-SIM, then triple SIM and now this. Check the photos below – 4 SIM cards, 4 signal strength indicators and little use for such a thing.






Four – count them! – four SIM cards, all of them active
The OTECH F1 is interesting in a "Did they really do that?" kind of way. The looks (and QWERTY keyboard) borrow heavily from BlackBerry, but 2.4" screen is touch enabled. Take that, Torch.




The OTECH F1 subtly looks like a BlackBerry
Oh, and there's a built-in TV receiver – PAL/NTSC/SECAM. FM Radio and Bluetooth are also available but it seems there's only GPRS for Internet connectivity (shame, quad-3G would have been fast).
Look closely at the back – do you see the label next to the camera? Yep, it says "12.1". I wouldn't count on 12MP photos though.





12.1MP camera… label, but probably VGA camera • The menu looks familiar
I only wonder one thing really – have they got a SAR rating for this thing?