After showing up on a bunch of Android and Windows Mobile devices (including the Samsung Galaxy Tab which has just been announced) the heavy texters' dream come true, Swype, is finally ready to say hi the Symbian touch phones out there.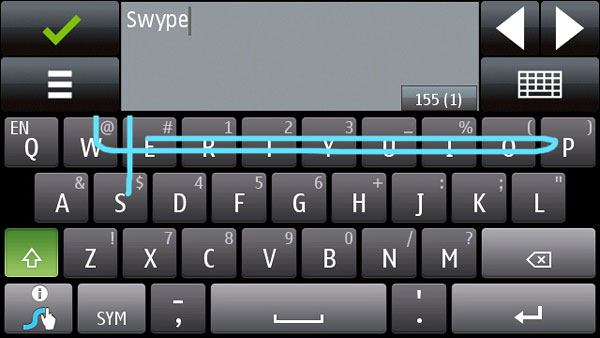 A beta version of the Swype for Symbian has just been released so you can download it straight away and see for yourself what all the fuss is about. Swype is nothing like a traditional QWERTY keyboard.
You tap on the screen with a finger or a stylus (depending on the touchscreen technology of your phone) and move from letter to letter without lifting the finger (or the stylus) in the air until you've gone through all letters building the word you're writing.
Swype recognizes the word you're trying to write (even if you weren't that accurate while selecting the letters) and puts it in the text above the keyboard. That should allow you to write up to 40 words per minute. Now, that's fast typing! Plus, if you prefer the old way of typing letter-by-letter it's still functional.
If the word on your mind is not in Swype's dictionary (there is support for English US, Spanish, Canadian French, and Brazilian Portuguese so far), once you write it, the software will learn it for future use.
The Swype for Sybian beta is compatible with devices based on the S60 5th Edition (including Nokia 5800, 5230, X6, N97, N97 mini and C6-00). To read more about the Swype, go to the Swype website or follow the source link below.