All the Nokia 5800 XpressMusic users out there can now enjoy the latest 5800 XM firmware update, v51.0.006. There aren't any major improvements brought by the new Firmware, but fixes some bugs so it's certainly worth downloading.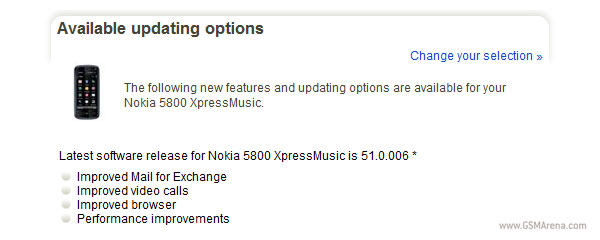 The FW update v51.0.006 comes with improvements affecting the Mail for Exchange app, the web browser and the video calls. It should also improve the overall speed of your Nokia 5800 XpressMusic. The kinetic scrolling will also get better and the annoying touch vibration bug is now gone.
On top of that the Ovi Sync localization seems to be fixed too, but one thing still isn't (and there are plenty of user complaints about that): RDS feature of the FM radio.
If you want to see what else has changed and what has been left untouched before you go for the latest Nokia 5800 XpressMusic firmware update or to share your own impressions of it, just follow the source link to the Nokia Support Discussions page.
You can get the firmware update v51.0.006 up and running on your beloved device after downloading it Over-The-Air or with the Nokia Software Updater's help.