Screenshots of the Firefox OS Marketplace have leaked revealing for the first time how the app store looks like.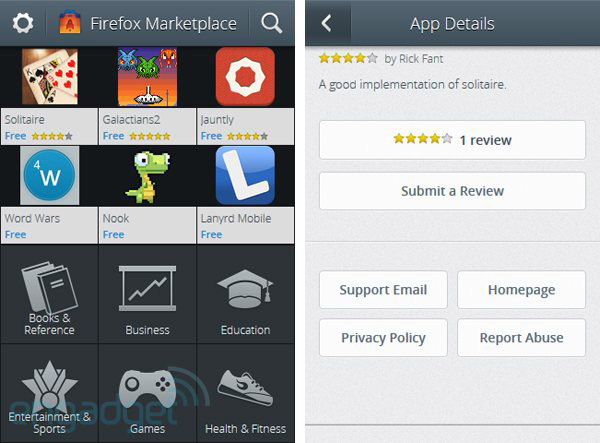 Previously known as Boot to Gecko, Firefox OS seems to be making significant progress towards its release in early 2013. Naturally, what you see here isn't final, as the Marketplace will evolve as Firefox OS gets into a release stage.
Back to the marketplace at hand, it features a minimalist design focusing on app categories and quick app discovery by categories. The app details section is very neatly organized, too.
Just as the other popular app stores like the Play Store and the Apple App Store, the Firefox OS Marketplace allows you to view the apps installed on your device. Currently, there are only free apps available, so it's going to be interesting to see how Mozilla will handle app purchases and refunds.
Firefox OS is expected to make its debut in early 2013 on devices manufactured by Alcatel and ZTE. Don't forget to check out our hands-on of the Firefox OS running on the Samsung Galaxy S II.