Mozilla is launching Firefox 13 via its regular Release channel today and has packed it with new features deeming it a "landmark release".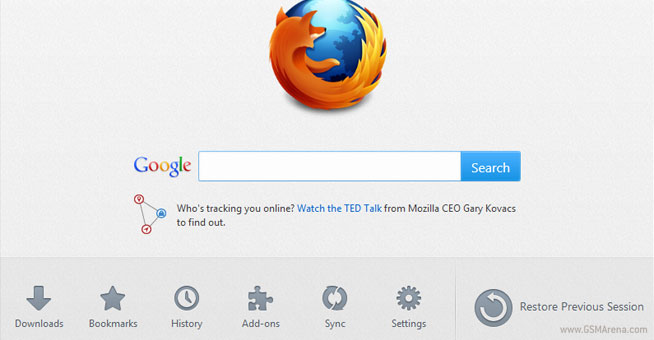 One of the first things you'll notice when firing Firefox 13 for the first time is the all-new start page. As before, it's minimalist in design, but now features a new navigation bar, allowing you to access your Downloads, Bookmarks, History, Add-ons, Sync and Settings.

Also, when you open a tab a new screen shows which is now populated with the most visited pages. If it's too Opera-ish or Chrome-ish for you, you can easily disable the feature by clicking the icon on the top right. Providently, Mozilla has also included a feature called "Reset Firefox", which in theory would fix problems caused by add-ons or buggy browser behavior by resetting it.
Other new additions include the implementation of Google's SPDY protocol for faster web browsing on websites that support it, as well as Tabs on demand. The latter kicks in when you restore multiple tabs from a previous session and will load just the one you are currently viewing to speed up the loading process.
Lastly, as discovered by Reddit users, the Firefox Download manager has also received a handy new feature. You can literally copy an URL of a page or a file and paste it directly onto the Download manager's window and it'll start downloading it. No questions asked. Pretty neat, indeed.
The update roll-out is scheduled to start some time today, June 5, so feel free to check the About window of your Firefox browser.