Facebook announced its Timeline feature back in September at the f8 conference and today it's ready and available for everyone (globally) to enable, try out under cover and, finally, publish to Facebook contacts.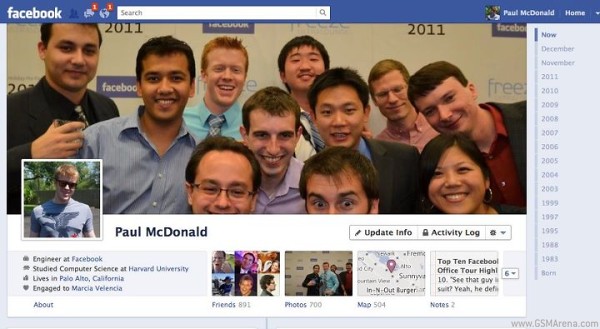 Timeline replaces your profile page with a reworked new one, focused on your entire Facebook activity divided into years starting with your first ever birthday.
You can check out who you've friended, what pages you've liked, the content you've posted for the time you've been on Facebook including your activity in the present moment. It's a neat feature by any means and brings a certain order to your social activity through the months and years.
Facebook allows for a 7 day review period so you can try out Timeline, get used to it and get some things you want to keep private out of the way. When you're done just publish, so all your contacts will be able to see it.
Many people wouldn't be so fond of the new look, but unless you're thinking of hanging up the social towel you're going to get Timeline – it's inevitable.
Facebook have put up a dedicated page to introduce the Timeline feature. You can get it by selecting Get Timeline and the bottom of the page – it simple and requires just a couple of clicks.