Now here's something you may have been expecting for some time. At a dedicated Facebook event today, Mark Zuckerberg, Facebook's CEO, announced some new Facebook features that are going to make their way in the already popular online social service (popular as in 750 million user base popular).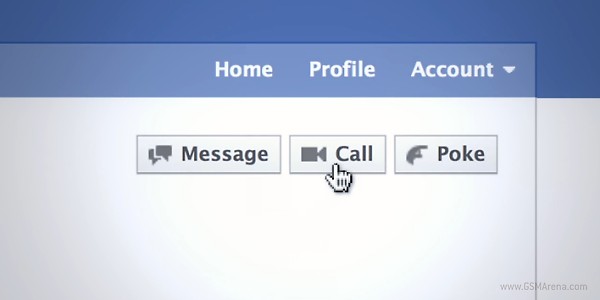 Now the powerful Facebook messaging system gets the option for video calls, group chats and some other new things.
Thanks to Skype, Facebook users can make videocalls hassle free straight from their chat list, which by the way has been enhanced to show your most contacted people more obtrusively (thank you for the latter, Facebook).
Now I'm not a big fan of videocalls – it's always that one of the parties either doesn't have a webcam or doesn't have their microphone setup correctly, but in recent years laptops have taken care of most of the hassle and mobile phone have been joining in on the fun as of lately too. And videocalling has this high-techy allure that for many people makes it a desirable feature to try at least. So I get it – adding videocalling to a nice messaging system makes it cooler – even if people won't use the new videocall option that much. I don't know about you, but I haven't Facetimed anyone (sounds dirty, doesn't it) on my iPhone ever. But I digress.
Videocalling on Facebook will be rolling out to all users in the next few weeks, but if you want to try it straight away, you can try it here. You will be taken through the process of installing a small piece of software on your computer before you start calling though.
We tested the new videocalling and video quality was just fine. In fact it didn't mandatorily need a webcam, so it will allow you to do voice calls through Facebook just as well. On the bad side, despite the Skype involvement, you can't make video/voice calls to people outside Facebook, even if those other people are logged on to Facebook via the latest beta Skype 5.5 client, which integrates Facebook chatting inline with the regular Skype session. Perhaps that's something that will be enabled once Skype 5.5 graduates from beta.
Another downer is that none of the video calling will be available on the mobile platforms supported by Facebook.
Here's a nice promo video of the new feature…
Yesterday TechCrunch reported that Facebok has serious plans for mobile app development and a possible joint strategy with Apple in an attempt to corner Google on the mobile front. It's an interesting (and long!) read, but today's announcement didn't have a word on it at all.