The Wikimedia foundation, which is the company behind Wikipedia, along with XDA-Developers and Reddit have joined the anti-SOPA protests. The three companies will be blacking out their websites tomorrow, 18 January for a whole day in an attempt to spread the word about the Stop Online Piracy Act, also known as S.O.P.A.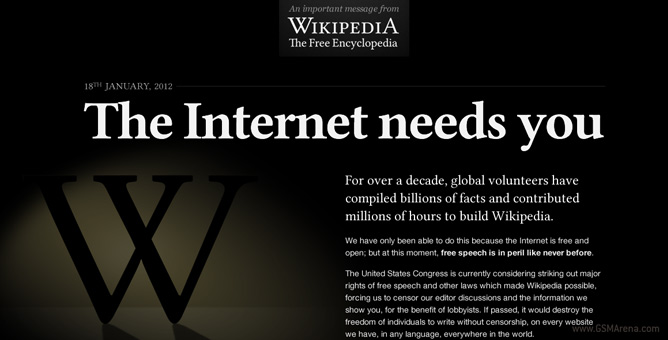 This was first announced by Wikipedia's co-founder Jimmy Wales and later got officially confirmed on by Wikimedia. An appeal from Wikipedia will be replacing every English page of the website.
According to Wales more than 25 million people will be affected by the Wikipedia blackout and that will be the best way to spread awareness of the mountain of problems for the freedom of the Internet this Act is going to introduce, should it pass.
Here's a part of the official statement from Wikimedia's special page for tomorrow.
My hope is that when Wikipedia shuts down on January 18, people will understand that we're doing it for our readers. We support everyone's right to freedom of thought and freedom of expression. We think everyone should have access to educational material on a wide range of subjects, even if they can't pay for it. We believe in a free and open Internet where information can be shared without impediment. We believe that new proposed laws like SOPA and PIPA, and other similar laws under discussion inside and outside the United States — don't advance the interests of the general public. You can read a very good list of reasons to oppose SOPA and PIPA here, from the Electronic Frontier Foundation.
XDA-Developers and Reddit will also blackout their sites to join Wikipedia's protest. XDA-Developers will attempt to gather 50,000 to pledge to their Congress representatives and express their opinions against the Act. Google, Mozilla and many more tech and online companies have already expressed their opposition to S.O.P.A.