We've seen spy shots of the Nokia 700 in red and white but today we got a friendly visit by the real deal. The 700 is part of the incoming Symbian Belle trio and Nokia touts it as its most eco-friendly and smallest smartphone to date. Actually, they say it's the world's smallest smartphone.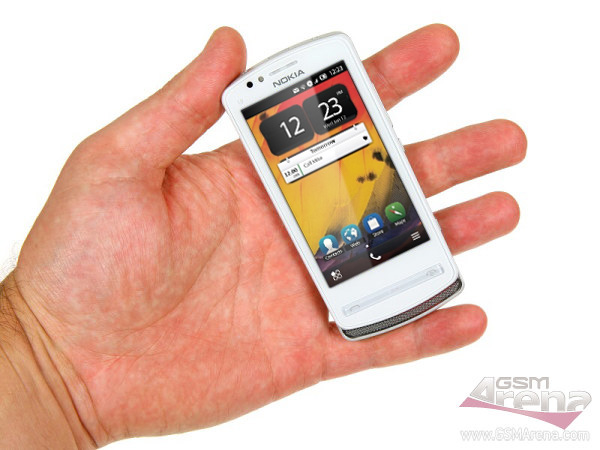 At a mere 50cc, the Nokia 700 has a high concentration of features – from a ClearBlack AMOLED display, through 1GHz CPU, eco materials and some NFC magic for super easy Bluetooth pairing.
The phone stands at 110 x 50.7 x 9.7 mm and has Nokia's traditionally solid build quality. It only weighs 96g too, but Nokia has found room in the weight budget for a truly metal back cover with a brushed finish.
The Nokia 700 is appealingly thin – there are no parts protruding beyond the 9.7mm thickness. The phone is elongated due to the wide aspect ratio of its screen and has beveled edges, all of which works out to very good ergonomics.
I'm still looking for a counter example of the "world's smallest" claim (smallest overall, not just thickness or surface area on the front). Chime in if you have any suggestions.
The Nokia 700 has a 3.2″ AMOLED ClearBlack display with nHD (360×640) resolution. It has excellent viewing angles, deep blacks and vibrant colors. It's guarded by Gorilla Glass, so it should keep its luster for a long time.
The 700 packs NFC connectivity, which is a big deal in Symbian Belle. It makes Bluetooth pairing between two devices simpler than ever before, in fact, it's as simple as it can be – you just tap the two devices together to pair them and tap them again to unpair them. It enables things like this.
The Nokia 700 is made entirely of recyclable materials and 60% of its packaging come from recycled materials. Have a look at the full eco profile here (PDF). The Nokia 700 goes light on energy usage too – it lasts up to 7 hours of talk time and up to 19 days of standby.
It all looks very promising – there's just one thing that I'm not sold on. A 5MP fixed-focus camera doesn't sound particularly alluring, we'll see how it performs come review time.
It records HD videos too, which has so far been the saving grace of Nokia's fixed-focus cameras, as videos turn out with surprisingly good quality.