Back in the summer, a leaked slide hinted when we should expect the arrival of the upcoming Tegra 4 chip from NVIDIA, and today more information regarding the SoC itself surfaced.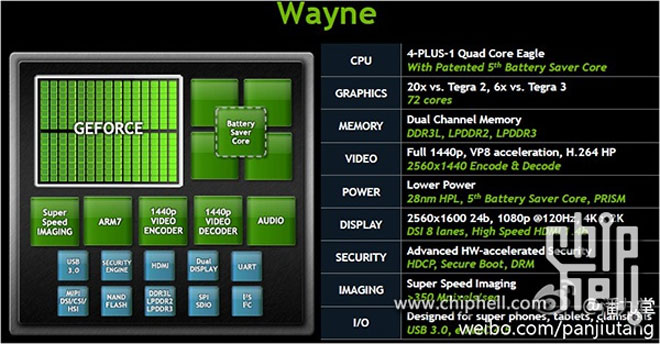 According to it, the Tegra 4 Wayne chipset is going to boast a mighty GPU with 72 cores. You read that right, 72.
That's 6 times more than the current-gen Tegra 3 GPU has. The power of those 72 cores allows the Tegra 4 to support displays with a resolution of up to 4K, or screens with up to 2560×1600 pixels @ 120Hz.
The CPU is tipped to house four ARM Cortex-A15 cores. It's highly likely that NVIDIA is going to carry over its 4-PLUS-1 technology in the Wayne chip as well, adding additional core for trivial user interface actions, and thus saving battery.
The Tegra 4 will also come with support for USB 3.0, dual-channel DDR3L memory and a high-performance imaging chip.
More information is expected to be unveiled at CES in January next year, with the chip getting cozy in end-devices several months later.