"Simple, fast and cost effective" was the most prominent statement found in the iPAD's promotional material and to clarify, we're referring to Proview's Internet Personal Access Device, rather than anything from Californian tech giant Apple.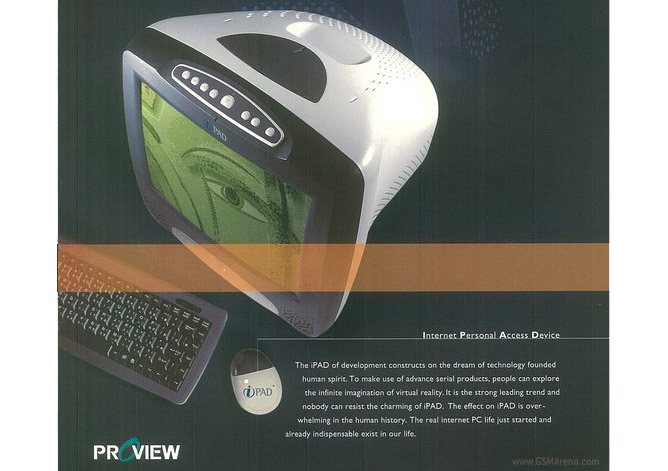 Yes, the name that has recently shown itself to be a thorn in Apple's side has a face and it's oddly familiar.
Draw your own conclusions from the design you see before you, but aside from the namesake which these two devices have, Proview's iPAD (note the stylized letters) actually shares a remarkable similarity to another Apple product from the history books of Cupertino. Look back to 1998 and you'll witness the birth of the iMac.
Proview, who have ensnared Apple's iPad in a Chinese trademarking dispute, halting sales and removing it from Chinese Apple Stores, created a 15″ CRT desktop computer of the same name which, like Apple's translucent iMac, also launched back in 1998.
Over the course of the company's life, some 10,000 to 20,000 iPAD units were shifted, however the company had since been unable to support itself and as such it collapsed in 2010.
As is apparent, Proview haven't exactly bowed out quietly as they are now pushing Apple for some financial compensation over the whole affair. If (or perhaps when) Apple do pay out, the money will be used to help pay off some of Proview's near $1 billion debt.
Proview's assets, which include the iPAD name are now owned by a group on eight banks seeking to as best they can, minimize the damage done by the outstanding financial situation. Being able to see this side of the lawsuit and the product in question may better inform readers, but it's not going to further the lawsuit surrounding it.
We'll keep you updated once we receive word of any movement in the case; until then, check out the source links for more images of the iPAD of yesterday and Proview's now defunct Shenzhen factory.