This week's poll is a compact smartphone battle redux, but this time we have a new contestant – the Samsung Galaxy S5 mini. And it's only fitting to let you decide if its better than its rivals in the trio of duels we have prepared for you.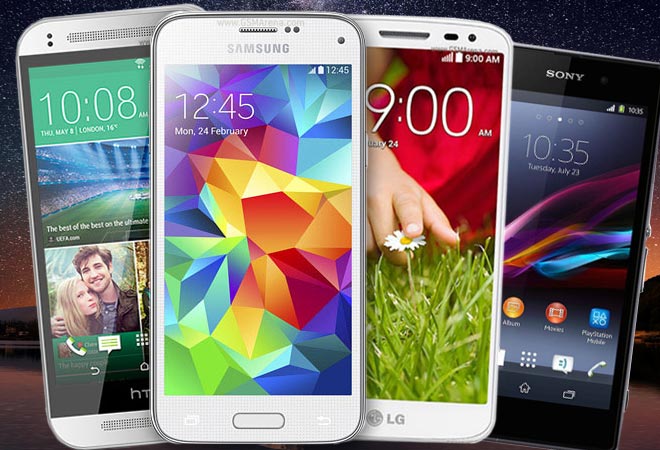 It's not too hard to figure out which compact smartphones we have in mind without reading the title. The high-end spectrum of mini smartphones includes the HTC One Mini 2, Sony Xperia Z1 Compact and the LG G2 mini, all of which will be keen to take on Samsung's latest offering.
The original Galaxy S4 mini sold in the millions, and Samsung executive J.K. Shin is definitely aiming higher with the phone's successor. To get there, it needs to handle the competition first. We can't think of a better way to see if it'll manage to do so (before reviewing it, that is) than to ask your for opinion.
Samsung Galaxy S5 Mini vs HTC One Mini 2
First we're pitting the Galaxy S5 Mini against is the HTC One Mini 2. The metal clad compact smartphone from Taiwan carries the fancy design of its bigger brother and is one of the most beautiful compact smartphones around.
In terms of hardware specifications, the two are strikingly similar: quad-core CPUs, 4.5″ displays, 2,100mAh batteries and both pack high resolution cameras. The Galaxy S5 Mini has the upper hand in contrast with its Super AMOLED display, but the One Mini 2′s design is certainly more eye-catching.
Samsung Galaxy S5 Mini vs Sony Xperia Z1 Compact
Next up is the Sony Xperia Z1 Compact, which is a truly high-end compact, both inside and out. The Snapdragon 800 chipset with a fast quad-core CPU makes it blazing fast and the steel frame gives you a nice feel while it does so. Its 4.3″ display makes it a bit more compact than the Galaxy S5 Mini, which is another plus.
To make things better for Sony, the Z1 Compact sports a higher resolution camera and a larger battery. The only edge the Galaxy S5 Mini has is the price, as the high-end specs Sony has chosen reflect on the price tag of its product.
Samsung Galaxy S5 Mini vs LG G2 mini
Finally, we have a classic derby from South Korea. The G2 mini is LG's attempt at a 2014 compact Android smartphone and in our review we concluded it has done remarkably well. The G2 mini sports the largest screen of all compact smartphones listed here, but it has one major flaw – its low resolution. At 720p, the Galaxy S5 Mini's 4.5″ display is sharper, but no one can beat LG G2 mini's screen to body ratio.
Even with a 4.7″ display, the G2 mini is shorter than the Galaxy S5 Mini, albeit slightly wider and thicker. There are no physical buttons or capacitive keys in the front, as all controls have been moved at the back, as per LG's latest design trends which pioneered on the LG G2.
Make sure you cast your votes by Friday next week, when we'll publish the scores. Happy voting!