Acting is a competitive career to say the least and there are two ways to keep steady work coming in, become a principle character on a long running TV series/stage show or carve a niche for yourself in TV ads, something one young female actor appears to be doing in the tech world.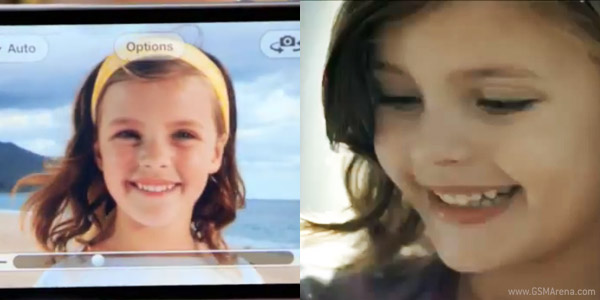 Dubbed "Little Miss Tablet" by the Sydney Morning Herald, this little lady has managed to land a part in not just one popular gadget ad, but two. Not only that, the gadgets she's promoting and by extension the companies she's advertising for aren't the best of friends as many of you well know.
It's no secret that Apple and Samsung don't get along together, with the copious amount of legal action (just search 'patent' on our main site to see what I'm talking about) affecting both companies across the globe. It's safe to say that things have already gotten ugly, but with the addition of the Samsung Galaxy S II ad's that surfaced late last year, is Samsung pushing the fight in front of consumers a little too hard?
One particular ad has caught people's attention after Samsung made a somewhat strange decision to cast this unnamed child actor in their Galaxy Tab 8.9 LTE ad, despite the same girl previously featuring in one of Apple's iPhone 4S commercials some months earlier. Whether this is an attempt to annoy Apple, pull consumers' attention from Apple's to Samsung's products, or just a case of the actor having a knack for playing "the cute child with a mobile device", is unclear.

Here's Apple iPhone 4S ad

And here's the Galaxy Tab 8.9 LTE from Samsung
Once the discovery had been made, Samsung removed the ad from their site, which suggests they either knew and had hoped no one would notice, or made a genuine casting mistake. Whatever the reason, Samsung have drawn attention to themselves which is neither good or bad, just plain strange and who knows, perhaps we'll be seeing "Little Miss Tablet" promoting Windows Phone next.
Which ad do you prefer and which product is more for you, leave a comment down below.