In terms of feature set and technology innovation, the Canon EOS 7D is definitely a ground breaking prosumer camera in the Canon DSLR portfolio. And it's got a new portfolio segment all to itself.
I was anxious to get it as soon as it became available and for the past couple of months I've been using it extensively for various photography tasks. And here's a spoiler for you – I'm really pleased with it. To learn more, check out the full preview.
It might seem that we are all about phones, but most of our team members moonlight as camera addicts following every step made by the industry leaders very closely. Canon EOS cameras have often been our weapon of choice and naturally a camera as exciting as 7D couldn't escape me without a proper test.
The new Canon EOS 7D boosts the megapixels to a new height with its brand new 18 MP CMOS sensor with an APS-C format (1.6x crop factor). Among the other new features is the AF system, 8fps continuous shooting, video recording with up to 60 FPS, wireless flash control, new buttons (the camera combo button) and the rich customization options.
Key features
New 18MP (5184 x 3456 pixels) APS-C CMOS sensor developed by Canon
8 FPS (frames per second) continuous shooting
Up to 126 JPG / 15 RAW images burst buffer
Brand new 19-point AF system with cross-type sensors
Dual DIGIC 4 processors, separate AF processor
1080p HD video recording with full manual controls; frame rates from 24 to 60 FPS
New 3.0 inch Clear View II LCD (920,000 dots) with anti-reflection coating
Wireless flash control with compatible flashes
Environmental sealed body, improved ergonomics and handling
1.0x magnification and 100% coverage viewfinder
Photo/Video switch with start/stop button
New on/off switch, Q menu, RAW/JPEG keys
Dual Axis Electronic Level indicator in viewfinder
Orientation linked AF points
New custom functions and menu
MRaw and SRaw shooting modes
Quick Live View autofocus, main AF key is now usable for Live View AF
Main disadvantages
18 MPs on APS-C sensor is quite demanding on lenses
Camera dongle switch is very tight
Buttons customization is limited to a several repeating features
No mirror-lock indication
Exposure mode dial still cannot be locked
My Menu is still limited to only six entries
Full video-related features can be accessed only in active video mode
Hardware highlights
I have extensive experience with Canon DSLRs and I've practically owned almost all their DSLR camera bodies starting from the Canon 20D, 30D, 40D going through Canon 1Ds, 1Ds Mark III, 1D Mark II n and 1D Mark III and ending up with the more recent Canon 5D Mark II and 7D – the subject of this review.
I've used all those camera bodies for the purposes of my personal hobby. It's mostly photographing wildlife – and especially birds. That's just my thing.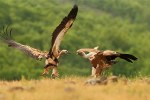 Shot by me: Canon 1Ds Mk3, 500/4 • Canon 30D, 500/4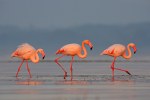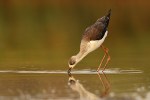 Shot by me: Canon 1D IIn, Sigma 300-800/5.6 • Canon 5D II, Sigma 300-800/5.6 • Canon 1D IIn, Sigma 300-800/5.6
The Canon 7D is an entirely new product by Canon and couldn't escape my interest and natural curiosity. My first impressions proved right. The camera has great ergonomics and its handling feels like a series 1 EOS camera.
The rock solid build quality certainly adds to that pleasant feeling. Fully weather sealed (when used with proper lenses, of course), the 7D feels right at home in the hardest of shooting conditions.
The addition of new controls and the rearrangement of the old keys will certain make upgraders from 50D scratch their heads from time to time but I think the new layout definitely makes sense.
The Q menu key grants quick one-stop access to almost all the features and settings, stocked in the sub-menus structure.
The one-touch RAW/JPEG key allows setting up the RAW and JPEG resolution and quality.
Through the INFO button you can set the display to show camera settings, shooting conditions and the brand new dual accelerometer electronic level indicator, which is quite useful for video shooting.
Another first is the camera/video combo rotary switch with start/stop button. I find it quite convenient. However the switch itself is a bit too tighter that I would have liked.
The new display used for the 7D is simply gorgeous. It is probably one of the best displays I've seen in terms of viewing angles, sunlight legibility and image quality (and I'm not talking digital cameras only here). Canon removed the air-gap between the LCD's protective cover and the display itself, which has helped improve its performance beyond that of Canon 50D and Canon 5D Mark II.
The Orientation linked AF points is one of the new features that I appreciate in the 7D. The camera allows you to select different AF type and AF points for both portrait and landscape modes and automatically alternates them as you turn it around.
While some other manufacturers have been integrating the wireless flash transmitter feature in their camera bodies from quite a while, Canon debuts this feature in the 7D. The Integrated Speedlite Transmitter allows you to wirelessly control up to three groups of four flashes with no additional equipment needed.
Another key feature, which is getting increasingly popular among the DSLR cameras is the video recording! Just like the Canon 5D Mark II, the Canon 7D has full manual control over shutter speed and aperture in video mode. The videos can be recorded in Full HD resolution (1080p) at 30 (NTSC), 25 (PAL) or 24 FPS or in 720p mode with 60 (NTSC) or 50 (PAL) FPS. Canon 7D has also a 3.5mm audio jack for plugging in an external microphone.
The amazing video quality is due to the huge sensor (by video recording standards) and the versatility granted by the vast variety of lenses available put the video camera manufacturers in a very unenviable position.
The 7D viewfinder has 100% coverage, which was retained so far for 1 series. Its magnification is 1.0 and so it is noticeably larger than that of the 50D. Needless to say that this is a real boost to the usability.
Canon APS-C cameras were never as close to Series 1 cameras in terms of features and functionality. The 7D pushes the envelope by bringing top functionality to a lower market segment. So obviously the potential of 7D is immense.
Autofocus faster than your thoughts
Canon cameras autofocus speed has always been accused of being a little below par in broad daylight and even more off the pace at unfavorable lighting conditions. Even on my previous camera – the Canon 1D Mark III the focusing system had its quirks.
With the all-new autofocus system and auto focus modes, Canon 7D is definitely a ground breaking improvement in the Canon portfolio. It is now a highly efficient tool for getting the sharp photos you've been looking for. Auto focusing in scarce light is also tangibly improved and is even better in some cases compared to 1D Mark III.
The excellent AF speed and accuracy are due to the new algorithms and, of course thanks to the 19 high precision cross-type sensors. The center AF sensor is additionally sensitive with lenses boasting F/2.8 or larger.
Among the important features of the new autofocus are the Spot AF and Zone AF modes. The spot autofocus mode decreases the area on which the autofocus is measured by the sensor, which is vitally important for small object or with less "contrasty" subjects.
The Zone autofocus on the other hand is very convenient for sport and wildlife photography as it groups the points into 5 zones, allowing easier subject tracking.
The other major innovation is the running AF indication in the viewfinder when shooting in Servo mode, which combined with either Zone AF or 19-point AF works flawlessly.
I'll not dive into bits how exactly the new AF system works, but the complete overhaul of the system has obviously produced a great result.
Image quality
The Canon 7D sports a new home-baked 18 MP APS-C CMOS sensor. The all-new sensor has a new photodiode and gapless microlens design (an improved version of the one found in 50D). According to Canon those should help the 18 MP sensor delivers better signal to noise ratio.
So far Canon cameras delivered as clean and untouched JPEG photos as possible. This hardly worries anyone who shoots RAW, but is a deal breaker for the common weekend photographer who doesn't want to waste too much time in post-processing.
Here are several of my shots taken with Canon EOS 7D:





Sample Canon 7D photos taken in different light conditions
With 7D straight-from-the-camera JPEG files are ready for printing/publishing with well saturated and vivid colors and increased sharpening. Some noise reduction gets applied even when the option in the menu is set to off. The cleverly designed algorithm tackles the noise in out-of-focus areas quite hard, while the in-focus objects remain sharp and crisp with less noise reduction.
When it comes to dynamics and resolved detail, the EOS 7D is quite demanding on the choice of lenses. Actually, anything below the best in class will limit its output resolution. With lower quality lenses, you may not be able to notice the advantage of the higher megapixel count. But don't get us wrong – you would get pretty decent results from cheaper lenses as well.
Besides that perk, the EOS 7D real-life performance is great despite its quite crammed 18 MP APS-C sensor. Just so you get a better idea, having that same pixel density on a full frame camera would result into the whopping 46 MP resolution – you can clearly see where this is all going. Stepping into the realm or medium format by using clever engineering and processing. We guess, that's the challenge R&D departments are tackling right now.
Clapperboard and … action!
One of the most fascinating new features in 7D is its ability to shoot top-quality videos at up to 60 fps. Canon 7D has all the video stuff of the 5D Mark II plus some extras on top.
The features that the cameras have in common are full manual or automatic exposures, three AF modes that can be activated before/during video capture, full-time working stabilization with stabilized lenses, built-in microphone and a 3.5mm audio jack slot for external microphones.
The major upgrades that the 7D brings are the added frame rate options and the camera/video rotary switch with stop/start button. The great bonus is the more commonly used framerate standard – it uses the unified standard of 29.97 fps rather than the 30 fps in 5D Mark II, which should allow easier synchronization with separately recorded audio in post-processing.
The new in-camera video trimming in 7D is a good idea but you can only do that in frame-by-frame increments. If you shoot at 60fps, you have to turn the Quick Control Dial 60 times just to trim a second off the video! We really would have appreciated having some varying increments.
Here's a sample video that I took of a nice kingfisher (that's the bird's name):
Final words
There was a lot of commotion in the enthusiast community about the Canon 7D pixel-crammed sensor. The 15 megapixel EOS 50D was not among the Canon's most successful products and the new 18 megapixel camera made photographers fear the worse – excessive noise without noticeable increase in resolved resolution.
The real-life results however are far from that and they are actually quite promising. The noise is well contained and has a more tolerable film-grain-like look – that's way better than what most people expected from the most pixel-dense APS-C sensor on the market.
The high-megapixel sensor however turned quite taxing on the current lens designs and as far as resolved detail is concerned, you won't be able to make full use of those 18 megapixels unless you have one of the handful lenses that can put up with the increased demand.
On the other hand, the excellent design, ergonomics, unmatched video recording, and lots of innovative features make the Canon EOS 7D a ground-breaking camera not only within the Canon portfolio but for the market in general.
Canon 7D is targeted for the prosumer photographers with high requirements that primarily use high-quality optics. It comes to fill the gap between Canon 50D and Canon 5D mark II and it's priced accordingly (currently at about 1700 US dollars, 1000 bucks less than 5D2 and about 700 dollars more than the 50D).