The Motorola Nexus 6 has so far been quite hard to purchase, especially if you were after an unlocked unit. Stock in the Play Store comes and goes extremely fast, for example. Now though, you can order the 32GB white version of the Nexus 6, and save some money in the process.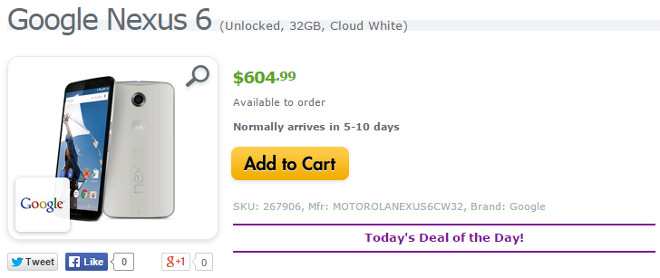 Expansys is running a "deal of the day" type thing on this unit, and as a consequence you can nab one for only $604.99. That's $45 less than the normal selling price of this high-end monster.
That's quite a nice amount to be saving, especially for a handset that isn't that old – and still comes with top notch hardware. There is one caveat to take into account, however. It doesn't look like the retailer has the phones in stock, as the listing has a pretty cryptic message of "normally arrives in 5-10 days" attached to it. So you may be in for a bit of a wait.
On the other hand, you are saving a bit of money by going this route – and, perhaps most importantly, you are actually getting an opportunity to order an unlocked Nexus 6 right now. It's unclear when such an occasion will present itself again. And since the 32GB white Nexus 6 is marked as being "today's deal of the day" at Expansys, we assume the price will go up tomorrow.