As you might have heard, Apple is giving away free cases to the iPhone 4 owners and those who have already bought a Bumper case, will get their money back. Apparently, the company has just started issuing refunds automatically.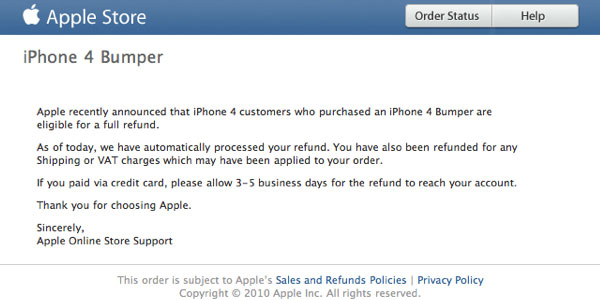 All current and future iPhone 4 owners (who bought their device before 30 September 2010) are getting a free case from Apple. That's not because there is something fundamentally wrong with the iPhone 4, it's just because Apple loves its customers.
And what if you've already got yourself a third-party case? In case it's not Apple's own Bumper, you get nothing. But if you're a happy Bumper owner, you'll get even happier since Apple will give you back the money you've paid for the case.
Actually, as the image above reveals, the company has already started issuing refunds automatically to customers who bought their Bumpers through the online Apple store so if you're one of them, you can expect your money any minute now.
And if you bought it from the store nearby, make sure you keep the receipt and go get your money back.