The BlackBerry Z30 is the latest smartphone offering from the struggling Canadian manufacturer. Many wonder if it's going to be the last nail in the BlackBerry coffin or if it will help it get a tiny breath of fresh air.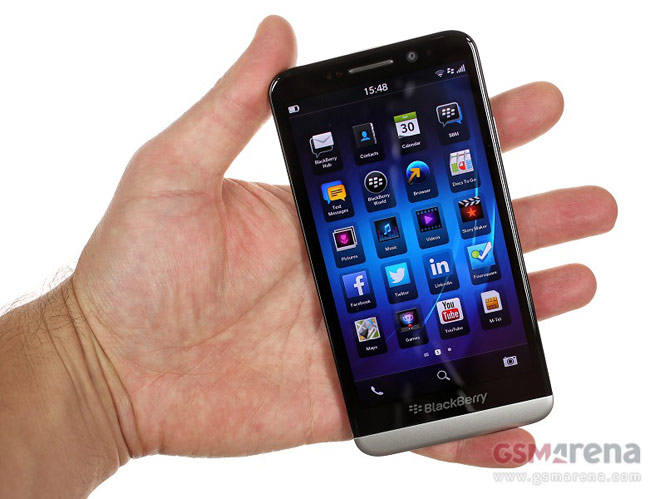 You won't find the answer of this question here, it's going to take a full blown review before we know it. For now, we're going to give you a quick overview of what the BlackBerry Z30 is.
In a word – it's the largest smartphone BlackBerry has ever put together. It's built around a 5″ Super AMOLED display, which packs a 720p resolution resulting in 294 ppi. It's not as much as its premium competitors, which go above 400 ppi, but no one will say the screen isn't sharp enough either.
Under the hood, it's not even in the same high-end universe as the Galaxy S4. The 1.7 dual-core Qualcomm Snapdragon S4 Pro chip inside put the Z30 in a more mid-range realm of smartphones. Internal storage is 16GB expandable by up to 64GB microSD card, while RAM is 2GB enabling trouble-free multitasking.
On the outside, the BlackBerry Z30 is built entirely out of plastic, with a metal-mimicking frame. The front of the device looks really nice, but the back doesn't quite match its appeal. It imitates carbon fiber, but fails to pull the trick for us.
Looks aside, let's talk numbers. At 170 grams of weight and 9.4mm of waistline, the Z30 is more bulky than most of its 5″ competitors. However, the added weight certainly helps the solid feel when you hold it in your hand. Sadly, the button layout, particularly the Lock/Power key isn't ideally located. Sitting on the top center of the phone meaning people with smaller hands will be stretching their hands a lot. Good thing is you don't actually need to use it very often as the BlackBerry 10 OS has a cool gesture unlock in place.
Mentioning the platform in charge, its latest 10.2 release brings lockscreen notification preview, Priority Hub, improved sharing as well as Miracast and Wi-Fi Direct capabilities.
Check out the BlackBerry Z30 in action below.
Our full review of the BlackBerry Z30 is being worked on as we speak, so stay tuned!