The BlackBerry PlayBook is on its way out – as far as 7" tablets are concerned, the Google Nexus 7 is getting all the attention, after it stole the spotlight from the Amazon Kindle Fire. But a good deal is a good deal – the 64GB version of the PlayBook is currently going for £129 in the UK.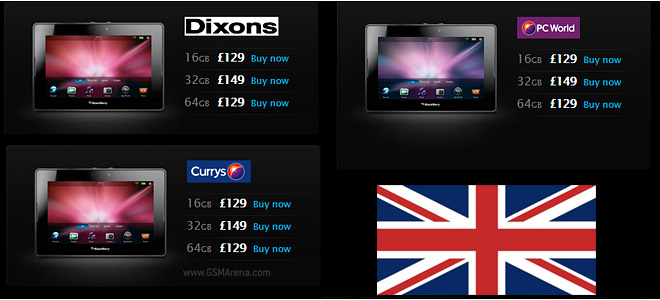 For comparison, a Nexus 7 8GB costs £159, while the 16GB one is £199. Somewhat amusingly, a 16GB PlayBook is £129 or even £169 in some places.
Currently three stores offer the BlackBerry PlayBook 64GB Wi-Fi at £129 – Dixons, Currys and PC World (actually those three stores are part of the Dixons Stores Group).
Note that those stores offer the 16GB version at the same price and the 32GB at £20 more. You can view the full list of prices in different UK stores for the different versions over at the BlackBerry site.
Before you rush to buy one, you should note that this might be the worst time to buy a tablet, even one so cheap. Amazon is holding a press conference on September 6 and all rumors point to a Kindle Fire successor. Granted, the UK is still to get the original Fire, but the new one might get there quicker.
Not even a week later Apple is expected to hold an event for the iPhone 5, but many rumors also claim an iPad mini will attend the party.
And for mainland Europeans who have considered importing the PlayBook 64GB to get in on the deal, the Nexus 7 is expected to arrive in several European countries on September 3. The 16GB version will be priced €250, though it should be €237.40 in France.
Still, for the cheapest brand name 7" tablet, a BlackBerry PlayBook 64GB for £129 is hard to beat.